W  H  E  R  E     A  R  E     W  E     G  O  I  N  G  ?
Barbados, the 21-by-14 mile Caribbean paradise that embodies crystal blue waters, fine powdery sand, brilliant turquoise bays and smashing nightlife, is situated in the North Atlantic Ocean as the easternmost island of the Lesser Antilles in the West Indies. Bridgetown, the capital of Barbados, is the epicenter, with its eclectic mix of rag-tag, shanty-style vendors hawking everything from homegrown vegetables, fruits, underwear, toiletries, cleaning products, clothes, purses.
Embrace life and celebrate it with the local bajans at the biggest Caribbean festival, attracting over 100k people from across the globe, filled with colorful carnivals, dancing, live music, cultural events and of course, Barbadian rum! For bajans, it's a cultural celebration that has hallmarked the end of the sugar cane growing season for over 300 years. For travelers, like us, it's a unique opportunity to become deeply immersed in the dynamic culture of the island nation. Unlike a typical tourist trip, you will experience Barbados in a way that large tourist groups miss. Offering a myriad of activities catering to your appetite for structure, spontaneity and to "brush shoulders" through the lively streets of Barbados soaking up the history and culture during the world-renowned festival, welcome to Crop Over 2019!
W  H  E  N     A  R  E     W  E     G  O  I  N  G  ?
August 1st – 8th, 2 0 2 4
(SPACES ARE LIMITED)
T  H  E     R  U  N     D  O  W  N
Upon your arrival, the Barbadian culture permeates you! The island appeals to a vast array of travelers and you will quickly notice this is one of the peaks of the travel season! Non-stop parties, amazing vibes and people of all colors make up the thousands of attendees from across the globe. From the moment we arrive, you will certainly know, it's CROP OVER season!
You'll rest peacefully with 7 nights in a renowned condominium steps away from the serene beach line. Rest… you will certainly appreciate as the BGTT experience immerses you into the island as if you were a local! From premier all-inclusive parties, Foreday jumping through the streets of Barbados, a day of lounging on the beach, touring of the island, BGTT rum tour experience, where rum is your main ingredient, and a beautiful morning coasting on a luxury all-inclusive private yacht.
LOCAL ADVISED ITINERARY… When you travel with Black Girls Travel Too, we offer a unique blend of both major highlights and off the beaten path experiences to ensure you a well-rounded experience.
THE HIGH TOUCH TREATMENT… We have mastered the art of customer care, with 24/7 online team member access before, during, and after your travels with BGTT.  Our commitment to you doesn't stop after your investment.   No questions are ever too small.  We got you covered and will ensure you have an epic experience from start to finish.
 PROFESSIONAL PHOTOGRAPHER IN TOW… You heard us right, every day will be a photoshoot! You'll be so immersed in the moment as we take on Barbados, and professional photographs will allow you to relive the moment, time, and time again. Daily, a digital link will be delivered to you with the previous day's memories. Giving you the power to share on your favorite social media accounts as you please!
SMALL INTIMATE GROUPS…We pride ourselves on offering small intimate tours to ensure each traveler a richer experience. Unlike large tour groups, traveling with a small group allows us more flexibility and to be less conspicuous for exploring with the locals.
Inclusive Round Trip airport transfers from and to Grantley Adams International Airport are included when you travel with Black Girls Travel Too. Hello stress free traveling!
YOU,
BARBADOS,
AND THE BLACK GIRLS TRAVEL TOO EXPERIENCE
So, you've had your eye on a Barbados getaway for some time now...
So, you've had your eye on a Barbados getaway for some time now, you followed our experiences that have spanned all corners of the world, you witnessed thousands of travelers grace our Instagram and other social media platforms, you pinned your life away on Pinterest planning the trip you work hard for and deserve, the desire to immerse yourself in a modern and classic culture has you up in arms with excitement, but there's a hesitation.
What is it like traveling with Black Girls Travel Too? This is new territory for me so how can I be sure I'll enjoy myself, and my closet loved ones are skeptical, in turn, having me question should I invest in this experience?
With Black Girls Travel Too, your hesitations are our motivations. As a premier black owned and operated traveling service we've dealt with our share of skepticism and prejudices early on, now we accredit our passion of going above and beyond a traveler's expectations to ensuring you the invaluable experience you deserve to be a part of. That hesitation you may be experiencing is familiar to us as well. A stigma placed on women of color is that we are uncultured even undeserving of a life filled with jet-setting and pages of passport stamps.  Nothing could be further from the truth, so we decided to change the rules.
By cultivating only the best partnerships across the globe, investing in premier quality customer care teams, immersing in education and vetting the world's most prized possession, a black woman to take trips of a lifetime with, your life is forever changed for the better.
We silenced the noise and lived up to no one's expectations of our lives but our OWN!
You deserve a seat at this table, and we are saving one for you. It's your time, pack your bags and let us take care of everything else!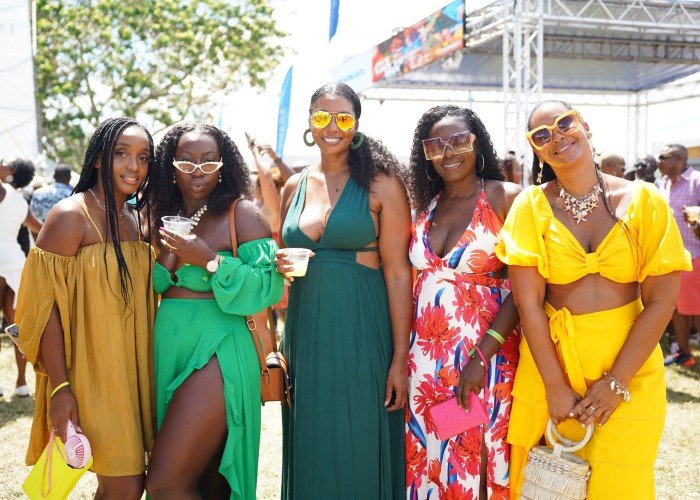 1
D A Y
Airport Arrival:
Upon landing at Grantley Adams International Airport (BGI), travelers will be greeted and assisted through the immigration process, ensuring a smooth arrival. After clearing immigration, travelers will receive assistance with luggage collection and expedited customs procedures.
At the meet and greet station, travelers will be welcomed with refreshments and cooling towels scented with Eucalyptus, providing a refreshing start to their Barbados journey. Drivers will then transport the group from the airport to their accommodations, offering a convenient and hassle-free transfer.
Check-In at Renowned Hotel:
Travelers will check into their rooms at a renowned Barbadian luxury condomimiums, ensuring a comfortable and luxurious stay.
The afternoon is left free for travelers to explore various local attractions and experiences at their own pace, catering to diverse interests.
Evening: Official Meet and Greet Dinner:
We gather for an official meet and greet dinner, as we have our first introduction to Bajan cuisine.
This arrival and welcome dinner truly exemplifies the inclusive and luxurious experience offered by Black Girls Travel Too, ensuring that travelers feel pampered and ready to embark on their memorable Crop Over adventure in Barbados.
Dinner Included
Morning: Premium All-Inclusive Breakfast Fete
Start the day early, as we dress in fashionable sunny attire, setting the tone for an unforgettable breakfast experience. This premium all-inclusive breakfast fete, flexes its exclusivity and range of offerings offering local delicacies and the continuous flow of rum, catering to the diverse taste of Experiencers.
For those who prefer an elegant touch, basked in the Barbadian rays while sipping on champagne or better yet a Mimosa or two. This is your opportunity to indulge in culinary delights and enjoy a classy morning in Barbados.
Late Morning to Afternoon: Free Time
After the breakfast fete, we will return to our accommodations and enjoy a relaxing afternoon at your own pace.
Evening: Beach Party
In the evening, prepare for a proper beach party, where the blazing soca tunes will set the mood for an unforgettable night. Complete with lively music, dancing, and the sound of the ocean in the background.
This day offers a combination of luxury, culinary indulgence, free time, and an exhilarating beach party, allowing Experiencers to savor the best of Barbados' vibrant culture and festive spirit during Crop Over Season. It's a chance to enjoy a lavish breakfast and then dance the night away to soca tunes on the beautiful Barbadian beach.
Breakfast Included
Foreday Morning Jam: Nighttime Street Party
Foreday Morning Jam as an exhilarating nighttime street party that follows the Pic-O-De-Crop calypso competition and lasts until sunrise. We will join the parade of revellers, embrace the paint and powder, and dance to sweet soca tunes through the streets of Barbados.
Morning: Rest and Recovery
After the Foreday Morning Jam, we have breakfast and return to our accommodations to get some much-needed rest. As rest is essential for pacing oneself during Crop Over festivities. The keep to enjoying Crop Over is to stay hydrated and rest up to recharge for the next round of festivities.
Afternoon: Free Time
Crop Over is all about pacing, and you as an Experiencers have the flexibility to choose how to spend your afternoon. Whether you decide to continue to fete and party, especially for those who want to embrace the bacchanalist spirit, relax at a nearby beach with a good book or simply enjoying the sun and sea, the choice is yours.
Late Afternoon/Evening: The Flyest Fete
As the day progresses, get ready for the highlight of the day, the "flyest fete" of the Crop Over season. A fantastic afternoon and evening of partying, delicious food, and vibrant music.
This day offers a perfect blend of tradition, relaxation, and high-energy festivities, allowing Experiencers to fully experience the vibrant culture and spirit of Crop Over in Barbados. It also provides the freedom for individuals to tailor their day according to their preferences, making it a memorable and enjoyable part of the trip.
Breakfast + Lunch  Included
D A Y
4
Morning: Scrumptious Bajan Breakfast
Begin the day with another delightful Bajan breakfast, inviting your fellow BGTT Experiencers to join for a communal and delicious meal. Showcasing the culinary treasures of Barbados, featuring local specialties and dishes that have become favorites of previous guests visiting Barbados. Savor every bite and maybe even exchange recipe ideas to recreate these dishes at home.
Early Morning: Boarding the Luxury Catamaran
After breakfast, we prepare for an unforgettable experience by escorting the group to Bridgetown, Barbados' capital. Introduce you to the sleek and exclusive 62-foot Luxury catamaran, highlighting its plush interiors, spacious decks, and air-conditioned comfort. The elegance and comfort of this experience, is clearly an indication that we've spared no expense.
As the catamaran sets sail, take in the stunning views of the Barbadian coastline, lounge on the deck, and enjoy the luxuries on board. Prior to lunch enjoy the opportunities of swimming, snorkeling, or exploring the crystal-clear waters. Or better yet, unwind, socialize, and make the most of this luxurious cruise.
Mid-day: Free Time
After the catamaran cruise, feel free to enjoy the remainder of the evening as you wish prior to our evening fete. We are sure many will desire to relax and rest, while others might explore or simply savor the memories from the day.
Late Evening: Final Fete/Party
As we head off to the final fete or party, setting the mood for the upcoming Grand Kadooment celebration. This is where the excitement intensify taking in the music, dance, and celebrate one last time before the big event.
This day offers a luxurious and memorable experience, from the culinary delights of breakfast to the elegance of the catamaran cruise and the excitement of the final fete. It sets the stage for a fantastic climax to the Crop Over adventure in Barbados.
Breakfast + Lunch Included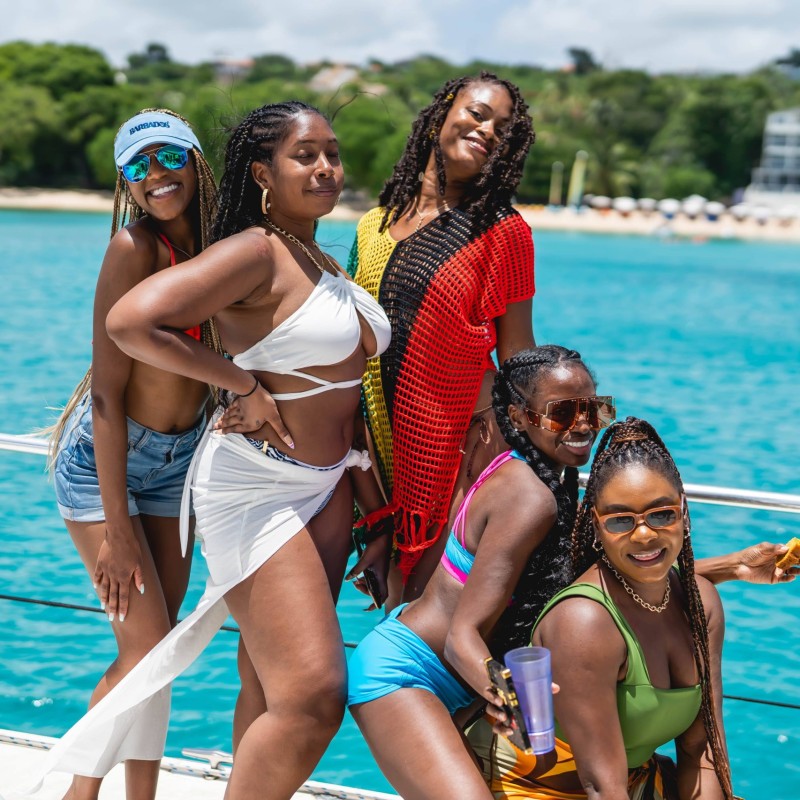 Morning: Bajan Breakfast
Begin the day with a delightful Bajan breakfast to energize and prepare you for the day's festivities.
Midday: Joining the Celebration
After breakfast, we prepare to depart for Grand Kadooment festivies, as the culmination of Crop Over has finally arrived. For those who desire to participate within the festival, you may join a masquerade band and fully immerse yourself in the parade, while others might prefer watching from the sidelines with the locals.
Post Grand Kadooment festivities, we will be fueled by a proper late lunch/early dinner.
Grand Kadooment is the grand finale of the Crop Over Festival, and it's a time for joy, music, and cultural celebration. Making Barbados an unforgettable memory of your Crop Over experience.
Breakfast + Lunch Included
Morning: Beachside Breakfast
Enjoy a picturesque breakfast area on the beach, making the most of the beautiful Barbadian coastline. Showcasing the culinary talents of a top Barbadian chef with a delicious spread of sweet and savory breakfast options. Enjoy a range of beverages, from fresh fruit juices to coffee and tea, catering to everyone's preferences. Take your time as you enjoy the exquisite food and soak in the relaxing beach ambiance.
Mid-Morning: Off-Road Adventure
After the indulgent of breakfast, prepare for an exciting off-road adventure exploring the rugged side of Barbados, whether it involves off-roading through natural terrain, visiting hidden gems, or engaging in thrilling activities, Black Girls Travel Too have you covered.
This day combines the tranquility of a beachside breakfast with the thrill of off-road exploration and surprise activities, offering Experiencers a well-rounded and unforgettable experience during their Crop Over adventure in Barbados.
Breakfast Included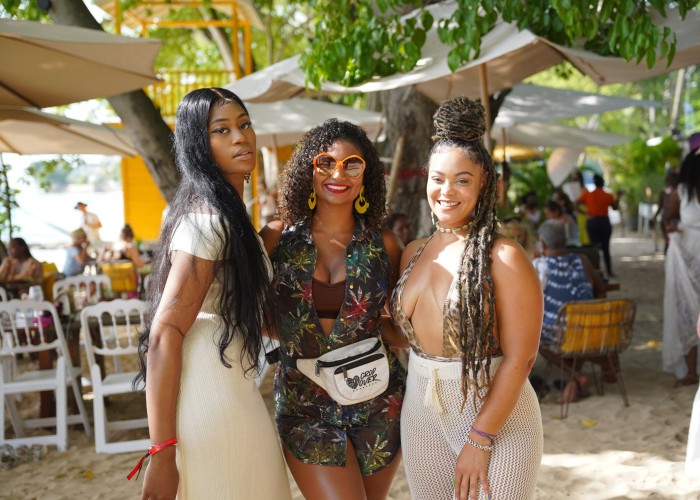 7
D A Y
Morning: Island Tour
Begin the day with a hearty breakfast to prepare for a day of adventure. Embark on a private island tour that will highlight what makes Barbados a top travel destination. Sharing interesting facts about the island's history, culture, and natural beauty. Head to the northernmost point of the island, St. Lucy, to take in breathtaking views. Make a memorable stop at Rihanna's childhood home, allowing participants to connect with the island on a personal level. As we commute through Bridgetown, provide insights into the capital's significance and history.
Midday: Zipline Adventure
After the island tour, we will embark on an adrenaline-pumping experience with a zipline course. As it has been our mission to diversify the activities to provide a well-rounded Barbadian adventure.
Afternoon: Rum Tasting
We will continue the day by indulging in a rum tasting experience, highlighting Barbados as the birthplace of rum. As each Experiencer learn about the history of rum production on the island. As everyone indulge in the variety of local rums, savoring the unique flavors and aromas.
Evening: Farewell Dinner
Later that evening, we will gather for a special farewell dinner, creating a warm and reflective atmosphere where we will share our most memorable moments from the experience.
Breakfast + Dinner  Included
Sleep in or catch the the sun rising at Dover Beach or wrap up any last minute shopping or indulge in sweet Barbadian delicacies once more, as we begin to prepare for your airport departure by a private BGTT shuttle to Grantley Adams International Airport.
We look forward to seeing you on the next BGTT trip somewhere around world! Travel Safely!
                                      Breakfast  Included
W H A T ' S  I N C L U D E D  ?
8 DAYS/7 NIGHTS IN PRIVATE LUXURY CONDOMINIUMS
7 BREAKFAST, 3 LUNCH,
2 DINNERS
PREMIUM ALL-INCLUSIVE BREAKFAST FETE
JOUVERT/FOREDAY MORNING ALL-INCLUSIVE EVENT
ULTRA PREMIUM ALL-INCLUSIVE
DAY & NIGHT TIME FETE
ALL-INCLUSIVE PRIVATE LUXURY YACHT EXPERIENCE
REST AND RECOVERY BEACH DAY
GUIDED ISLAND TOUR OF BARBADOS
Ultimate PRIVATE Off Road ATV Experience
BREADFRUIT TASTING EXPERIENCE
Expedited Airport Arrival Services
INTIMATE GROUP EXPERIENCE
2 LIVE VIDEO INFORMATIONAL GROUP CALLS
***Airfare Not Included***
*Parties/fetes that are not mentioned in the above itinerary are not included within your purchase.*
***Please do not purchase airfare until you have received a confirmation email from Black Girls Travel Too confirming your reservations.***
G O T   Q U E S T I O N S  ?
What is Crop Over Festival? 
Crop Over Festival is a season used to celebrate the ending of the local Sugar Cane Harvest and is distinctly unique from the Carnival Festivities in other Caribbean countries.
Are the parties/fetes included in the purchase of the package? 
Fetes/parties mentioned within the above description of the itinerary are the only fetes/parties included within the purchase of the Black Girls Travel Too Barbados Experience. However,  there are hundreds of parties/fetes occurring during the Black Girls Travel Too Barbados Experience.  Some parties are on land while others are on water. We allow our Experiencers to decide on which additional fetes they would like to partake in, at their own expense.
How will I determine which band to play with? 
There are numerous bands. Often times, revellers select bands to play mas with off of three things.
Costume
Price/Value
Friends
Whereas it is not a requirement for you to play mas with the same band as Black Girls Travel Too, it does make it easier and safer if you are with a familiar group of people.
Do your package include costumes? 
Our package include one costume that is selected on your behalf specifically for Foreday Morning. However, the costume for Grand Kadooment if you so desire to participate, is at your own expense.
Why don't your package includes all fetes/parties? 
It would be impossible for one to attend all fetes being that many overlap each other. Also, different fetes have different vibes. Some fetes/parties are on land while others are on the water. While we have included three fetes, we decided to give our Experiencers the liberty to decide on which additional fetes they would like to participate in at their own expense.
I'm not familiar with the Caribbean culture of carnival. How do I prepare for this experience? 
The best way to prepare yourself is to just dive straight in. Head over to YouTube and listen to Crop Over 2023 Soca music. Soca and a tad bit of Afro beat is all you will hear the entire time during Crop Over. It is best to familiarize yourself with the music as you will quickly realize that everyone is a Soca head during Crop Over… And I am sure you don't want to feel left out. Also, look at carnival videos (Crop Over 2017, 2018, 2019, 2022, & 2023) of people on the road. This can assist you tremendously in getting a clearer picture of the culture you are about to embrace. At least learn how to whine and chip. These two styles of dancing can also be viewed on YouTube. If you plan on partaking in multiple fetes and participating in Foreday or Grand Kadooment, start walking a couple of miles a day, NOW! You must build up your endurance, as you will be walking several miles in the heat during Crop Over and the road is no joke… 6 plus miles!!!
How much spending money will I need in Barbados? 
You will need about $750.00 USD. However, if you wish to buy several gifts, you should add an additional $200.00 dollars or so.
What is the Barbadian conversion rate? 
The currency of Barbados is the Barbadian Dollar (BBD). The Barbadian Dollar is converted at a rate of $1.98 (BBD) to $1.00 (USD). The Barbadian Dollar is fixed to the U.S. Dollar and does not fluctuate like in most foreign countries. U.S. currency is accepted across the island and most stores and restaurants accept major credit cards.
Do I need a passport to travel to Barbados? 
Yes!
Are flights included in the purchase of the BGTT package? 
Flights are not included. However, if you desire assistance in selecting the best flight for you, feel free to contact us at support@blackgirlstraveltoo.com.
When should I purchase my airfare? 
You should purchase your airfare as soon as you receive your Barbados confirmation email.
Should I purchase travel insurance? 
Travel insurance is a requirement in order to travel on any Black Girls Travel Too experience we offer.
What is the arrival airport? 
The arrival and departure airport is Grantley Adams International Airport, airport code (BGI).
How will I commute from Grantley Adams International Airport to my accommodations? 
We provide complimentary roundtrip airport transfers.
Where are we staying? 
We will stay 8 days/7 night within a luxury condominium property.
Are there any private room options available? 
Of course! Our private room charge is an additional onetime fee of $850.00 To request a private room, email support@blackgirlstraveltoo.com.
I really want to travel with your group, but I feel like I may be too young or too old.
No worries at all! When it comes to travel age is nothing but a number. Our BGTT Experiencers range between the ages of 25-59. There has not been one time that a traveler felt awkward because of their age traveling with Black Girls Travel Too.
Are your trips designed to serve large groups? 
Totally the opposite. However, being that Crop Over Festival is a special kind of trip unlike any other BGTT experience. We allot for additional guests, as this experience is fun and high energy. But don't fret, our trips are designed for high touch and exclusive experience. Therefore we will have a minimum of 4 team members through the experience to ensure everything runs smoothly as our more intimate experiences.  This unique experience allows you to create a community amongst your fellow travelers.
W H A T  A B O U T
P A Y M E N T  P L A N S   ?
By purchasing a trip from Black Girls Travel Too, you acknowledge and are aware that the trip details are subject to change.  The itinerary was curated in good faith and any mention of specific destinations does not guarantee that they will be visited nor does it forfeit the contract between the purchaser and the seller. Our itinerary has been put together with care and intention, however as we may deem it fit to make adjustments that stem from political affairs, weather changes, local concerns, and etc. Our number one goal is to ensure that we provide you with a memorable experience. To ensure that our goal is your goal as well, print a final copy of your itinerary for your review prior to your departure for your trip. You also acknowledge and agree that there are inherent risks associated with any activities you may partake in. Therefore, you understand, agree, and assume full responsibility for such risk that you alone are responsible for based upon your decision to participate in such activities.  There are no refunds after confirmation of your reservation.  However, if your reservation is not confirmed due to availability you will be refunded in full.