W  H  E  R  E     A  R  E     W  E     G  O  I  N  G  ?
Officially known as the Republic of South Africa (RSA), South Africa is the southernmost country located in Africa. It shares borders with Botswana, Mozambique, Namibia, Swaziland, Lesotho and Zimbabwe. With an area of 1,219,090 square km, it is three times bigger than Texas, and five times bigger than Japan. South Africa is unique in that it has three capitals: Cape Town (Legislative), Pretoria (Administrative) and Bloemfontein (Judicial). There are nine provinces in total: Western Cape, Eastern Cape, ZwaZulu-Natal, Northern Cape, Free State, North West, Gauteng, Mpumalanga and Limpopo, with each having its own government. Zulu, Xhosa, Afrikaans, English, Tsonga, Swazi, and Venda are some of its official languages. With no less than eight of the world's heritage sites located here, South Africa has proven itself as a multiethnic society encompassing a wide variety of cultures, languages, and religions. Not only is it culturally rich, it also has several distinct ecosystems: wetlands, deserts, bush, grasslands, mountains, escarpments, and subtropical forests. These diverse ecosystems allow for one to enjoy many different kinds of adventures while visiting. From the Western Cape which offers gorgeous beaches and lush winelands to the rugged cliffs at the Cape of Good Hope, whatever kind of experience you desire, you can most certainly find it within South Africa.
W  H  E  N     A  R  E     W  E
G  O  I  N  G  ?
O C T O B E R  6  t h  –  1  7  t h ,  2 0 2 2 
O C T O B E R  2 0  t h  –  3 1  s t ,  2 0 2 2
N O V E M B E R  3  r d  –  1  4  t h ,  2 0 2 2
(SPACES ARE LIMITED)
T  H  E     R  U  N     D  O  W  N
What better way to spend your vacation than visiting the Motherland! Upon arrival, you will be introduced to the heart of South Africa – Johannesburg or Jo'burg for short. It is a city of many contrast and a true reflection of South Africa's history under apartheid with its glass and steel skyscrapers towering over the many shantytowns that still exist.
With 11 nights to spend exploring Johannesburg and Cape Town, you are sure to become fully immersed into South African culture.
Johannesburg: Your initial experience begins in South Africa's largest city, also known as the City of Gold. Once home to Nelson Mandela and Desmond Tutu, it is one of the 50 largest urban areas in the world.
Cape Town: We will venture to South Africa's oldest city and legislative capital, home to the infamous Table Mountain. Known as the "Mother City", Cape Town is full of architectural beauty, natural wonders and a rich political history.
LOCAL ADVISED ITINERARY . . . When you travel with Black Girls Travel Too, we offer the unique blend of both major attractions and off the beaten path experiences to ensure you a well-rounded experience in the city.
THE HIGH TOUCH TREATMENT . . . We have mastered the art of customer care, with 24/7 online team member access before, during and after your travels with BGTT. From currency conversion to what to expect, we got you covered and will ensure you have an epic experience from start to finish.
PROFESSIONAL PHOTOGRAPHER IN TOW . . .  You heard us right, every day will be a photoshoot! You'll be so immersed in the moment as we take the city, and professional photographs will allow you to relive the moment, time and time again. Daily, a digital link will be delivered to you with the previous day's memories. Giving you the power to share on your favorite social media accounts as you please!
INTIMATE GROUPS . . . We pride ourselves on offering small intimate tours to ensure each traveler a richer experience. Unlike large tour groups, traveling with a small group allows us more flexibility and to be less conspicuous for exploring with the locals.
Inclusive Round Trip airport transfers from O.R. Tambo International Airport (JNB) and to Cape Town International Airport are included when you travel with BGTT. Hello stress free traveling!
YOU,
SOUTH AFRICA,
AND THE BLACK GIRLS TRAVEL TOO EXPERIENCE
So, you've had your eyes on a South Africa getaway for some time now...
You followed our experiences that have spanned all corners of the world on our Instagram and other social media platforms, you pinned your life away on Pinterest planning the trip you work hard for and deserve, the desire to immerse yourself into a modern and classic culture has you up in arms with excitement, but there's a hesitation.
What is it like traveling with Black Girls Travel Too? This is new territory for me so how can I be sure I'll enjoy myself, and my closet loved ones are skeptical, in turn, having me question should I invest in this experience?
With Black Girls Travel Too, your hesitations are our motivations. As a premier black owned and operated traveling service, we've dealt with our share of skepticism and prejudices early on, now we accredit our passion of going above and beyond a traveler's expectations to ensuring you the invaluable experience you deserve to be a part of. That hesitation you may be experiencing is familiar to us as well. A stigma placed on women of color is that we are uncultured even undeserving of a life filled with jet-setting and pages of passport stamps.
Nothing could be further from the truth, so we decided to change the rules.
By cultivating, only the best partnerships across the globe, investing in premier quality customer care teams, immersing in education and vetting the world's most prized possession, a black woman to take trips of a lifetime with, your life is forever changed for the better.
We silenced the noise and live up to no one's expectations of our lives but our OWN!
You deserve a seat at this table, and we are saving one for you. It's your time, pack your bags and let us take care of everything else!
D A Y
1
Arrive at O. R. Tambo International Airport (JNB) where you will be welcomed by our Black Girls Travel Too Ambassador and greet your fellow travelers for 12 days and 11 nights of self-discovery and new experiences.
After completing check-in to your home away from home, the afternoon is yours to recover from your long flight or venture out via the narrow streets of Johannesburg, which are shadowed by the high-rise buildings creating almost a tunnel-like effect.
Later that evening, join us for the Black Girls Travel Too official Meet & Greet, a delectable welcome dinner, at one of Johannesburg's premier restaurants.
Welcome Dinner Included
Our adventures in South Africa officially begin! After enjoying breakfast together, we will journey to Soweto for a full day tour. Easily South Africa's most famous township, two notable Nobel Prize winners, Nelson Mandela and Desmond Tutu, once called Soweto home. It is a symbol of the New South Africa, still bearing some of the scars of its Apartheid past but also a vibrant city full of promise. We will spend the day exploring Soweto with a local tour guide who will deliver a robust itinerary, allowing you to experience what Soweto has to offer. Both the birthplace and the foundation of the fight against apartheid, it has a wealth of historical significance which is apparent throughout all of the cultural sites in the area. From Kliptown, one of Soweto's oldest districts, to Vilikazi Street, where both Mandela and Tutu resided, you will depart with a wealth of knowledge and an experience you will never forget.
After our tour, the remainder of the day is yours to continue embracing all that is Johannesburg. Hop on the MetroRail to discover one of the many districts of the city. Pop in a museum in the Inner City, visit Nelson Mandela Square in Sandton or explore Old Jo'burg.
Breakfast + Lunch Included
Put on your most comfortable shoes as today we will embark on a walking tour of Jo'burg. Our first stop – Maboneng! The Sotho word for "place of light", Maboneng certainly lives up to its name. Its mix of restaurants, coffee shops, clothing boutiques and art galleries draws in both those who dwell in the inner-city as well as the city's suburbs. It's chic, urban backdrop provides a cultural oasis and inclusive vibe, making it a must see!
Up next is Carlton Centre, a towering skyscraper and shopping centre in downtown Jo'burg. With over 50 floors, it has been the tallest office building in Africa since 1973! Enjoy a panoramic view of the City of Gold from the top floor of the building, known as Top of Africa, which provides a 360 degrees view of dense cityscape, the countryside and beyond.
After we depart the Carlton Centre, we will continue our tour on the ground, visiting the neighborhoods that help create the diversity of Jo'burg. Take note of the impressive buildings such as the Johannesburg City Library, Luthuli House (headquarters of the African National Congress) and Rissik Street Post Office (built in 1897 during the time of Paul Kruger.
After our tour, the remainder of the day is yours.
Breakfast Included
D A Y
4
JOHANNESBURG + CULTURAL IMMERSION
Today get ready for an unforgettable experience as we travel to the Cradle of Humankind, one of the many world heritage sites located in South Africa. Here you will have the opportunity to learn more about the origins of humanity in the world's richest hominin site, home to about 40% of the world's human ancestor fossils. This site is also home to many rare and endangered birds, animals and plants. Covering 53 thousand acres of land, this vast expanse of land is a beauty to behold, and its never-ending list of activities will keep your adrenaline pumping.
Our next stop is Freedom Park, one of the most ambitious heritage projects that encompasses the heart and soul of South Africa. It is a true monument to democracy, as Mandela described in his 1999 statement, "… the day should not be far off, when we shall have a people's shrine, a freedom park, where we shall honour with all the dignity they deserve, those who endured pain so we should experience the joy of freedom." Pay homage to those who lost their lives during the struggle of apartheid at Isivivane, a symbolic resting place. Enjoy the essence of Sikhumbuto, a portion of the Park that includes Wall of Names, an amphitheatre, an eternal flame, a gallery of leaders, and a sanctuary.
Once we have completed our time at the Cradle of Humankind and Freedom Park, the rest of the afternoon is yours to relax or continue your explorations of Jo'burg.
Breakfast Included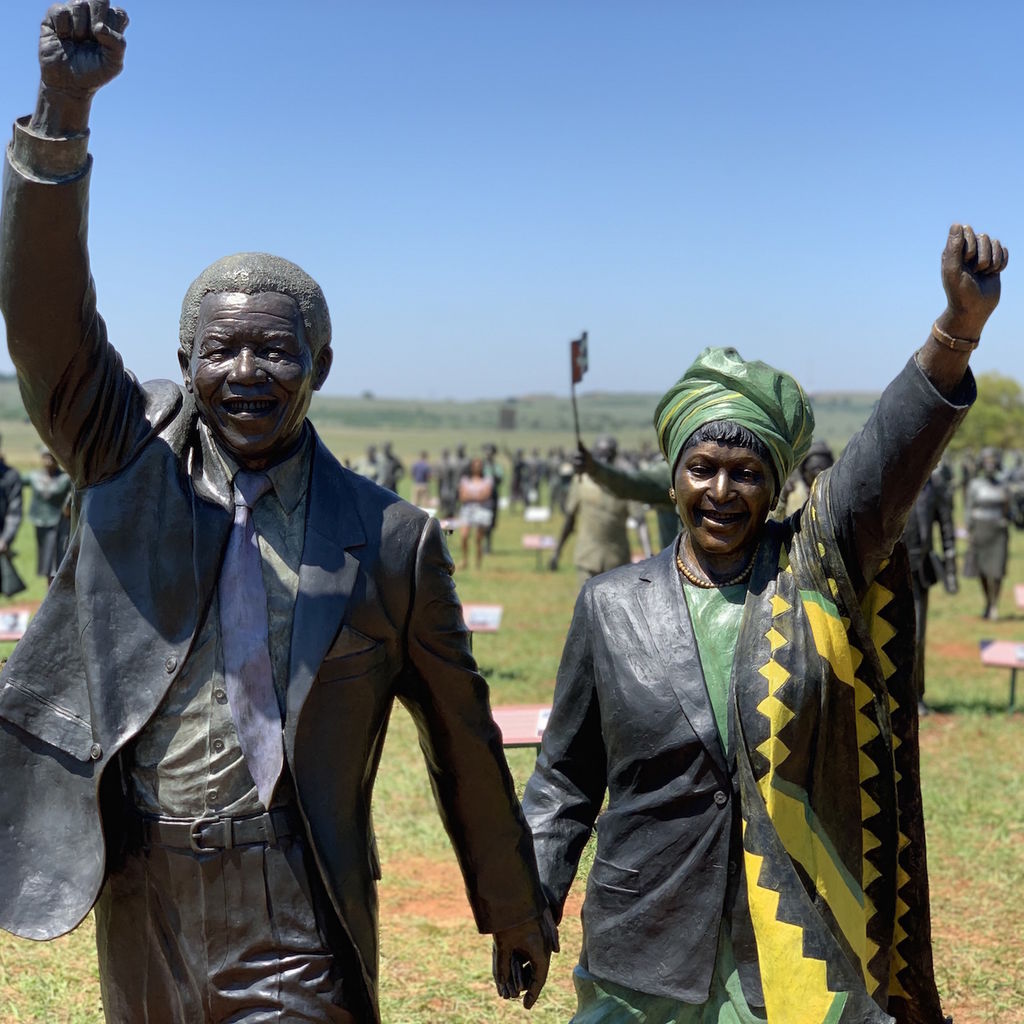 Safari anyone?
There is no way we are leaving South Africa without experiencing a safari! We will check out of Jo'burg and be transported for an overnight stay in Pilanesberg National Park. located in the Bojanala Regionwithin a volcano crater that erupted 1300 million years ago, it is the fourth largest park in South Africa with an area of 550 square kilometers. Home to over 7000 animals and 360 bird species, it is truly brimming with wildlife!
Our safari adventure begins with afternoon tea, followed by an afternoon game drive. Here we will get up close and personal with nature as we explore the park in open vehicles, providing the best perspective to view all of the plants and animals within the reserve. Make sure to have your camera ready so you don't miss a thing! After the sun goes down, we will enjoy an appetizing dinner before we part ways for the evening to gear up for the next day.
Breakfast + Lunch + Dinner Included
We hope you are well rested as day two of our safari adventure begins before the sun rises as we set out to view the animals before they begin their morning routine. Enjoy the crisp morning air as we ride through the wilderness, untouched by the hand of man. Be camera ready as this is the time to capture the wonder of the park in all its glory, you may even come across some of the Big 5 which includes lions, leopards, rhinoceros, elephants, and Cape buffalos! Once our morning safari is complete, we will head back to the lodge for a delicious breakfast.
After breakfast, we will be transported to the airport for a quick flight to our next destination – Cape Town! Once we touchdown and have checked into our accommodations, feel free to roam around Cape Town until we meet again for dinner.
Breakfast Included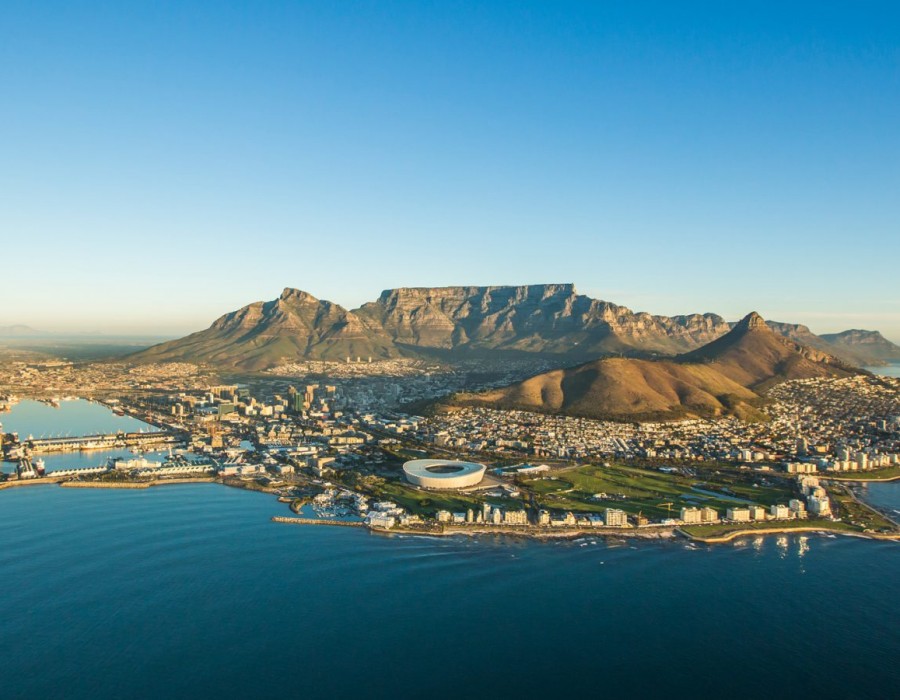 D A Y
7
Welcome to the Mother City!
We have finally made it to the booming city of Cape Town. After a delicious breakfast, we will take a tour of the city and surrounding Township. Cape Town has everything you can imagine and more. Soak in the history and culture of this beautiful city as we drop in on some of the more notable sites Cape Town has to offer. In the afternoon, prepare to be amazed as we pay a visit to the iconic Table Mountain, one of the most recognizable mountains on Earth as well as one of the new seven wonders of nature. More than just a scenic view for the perfect selfie, Table Mountain is home to 2,200 species of plants found and 1470 floral species. Among some of the animals who inhabit Table Mountain are penguins, a very unique sight to see in Africa! You will lose yourself in the beauty of its many valleys and streams, making it a delightful getaway from the bustle of Cape Town. Be whisked away to the top of the mountain by the cableway, the only one of its kind on the entire continent, for an unspoiled view of the majesty that is Table Mountain.
After we have returned from Table Mountain, the remainder of the day is yours.
Breakfast Included
"There is no passion to be found playing small – in settling for a life that is less than the one you are capable of living." – Nelson Mandela
After breakfast, get ready to hop aboard a ferry for a trip to Robben Island, a must see during our South African adventure. This world heritage site is most famous for its notorious maximum-security prison where Nelson Mandela was held as a prisoner for 18 years. As we view the cell where he was held, allow your emotions to take over as you envision the journey of Mandela from his fight against Apartheid to his triumphant return as a political powerhouse promoting peace (say that five times fast!). A stop at the Lime Quarry will also tug at your heartstrings as this is where Mandela worked tirelessly during his incarceration, carrying limestone from one end of the quarry to the other for no particular reason other than to keep him occupied. Mandela used the Lime Quarry as a place to further his education, turning a place of toil into one of tutelage.
Once our visit to Robben island has commenced, the rest of the afternoon is yours to enjoy.
Breakfast  Included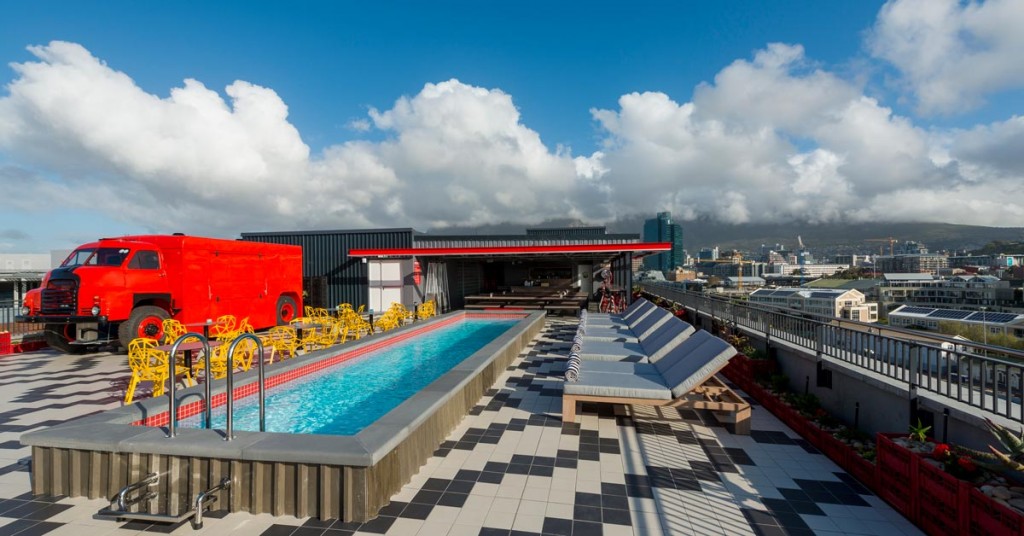 Get ready to experience the exquisiteness and natural landscapes of South Africa's Cape Peninsula. Explore the Cape Point Nature Reserve, observe playful families of African Penguins in Simon's Town and capture the picturesque coastal towns of Fish Hoek and Muizenberg. Take as much time as you can to revel in this diverse ecosystem located at the foot of Table Mountain, savoring the splendor of the Cape Floral Region proudly displayed at this UNESCO World Heritage Site. There is no shortage of photographic opportunities, from Chapman's Peak to the Cape of Good Hope.
After our tour ends, the remainder of the day is yours to indulge in the many sights of this beautiful location.
Breakfast + Lunch Included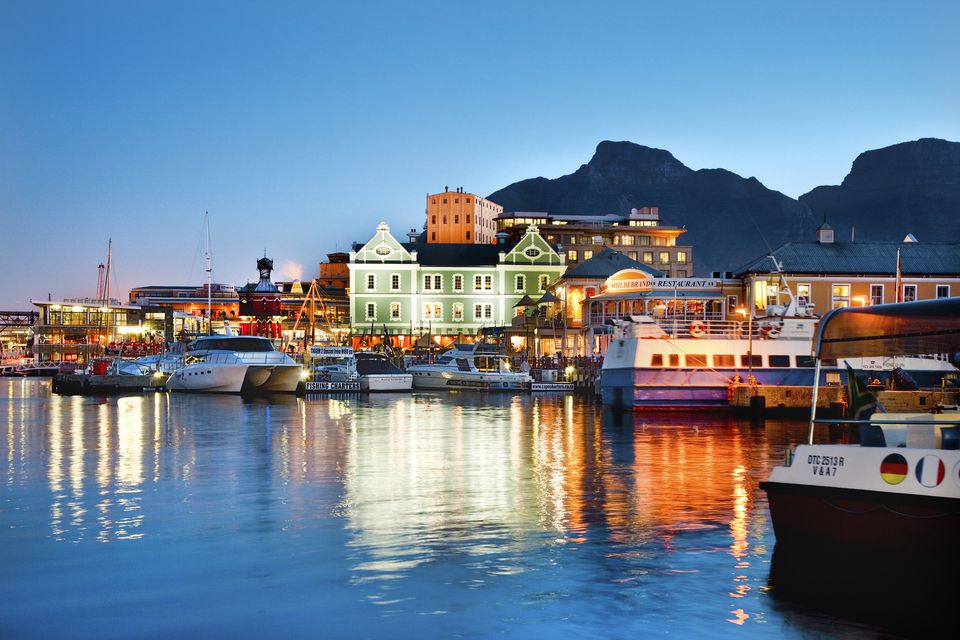 Let me pour you a drank…
Get swept away by the awe-inspiring grandeur of rolling vineyards and perfect blue sky as we tour the renowned Winelands of Cape Town. Indulge in delicious wines along with some of the most beautiful landscapes on earth. Enjoy diverse and delectable wine tastings that include the crisp white and classic French-style red wines and fantastic cheeses that the area is most famous for. Take pleasure in the stunning wealth of natural beauty as we visit the charming estates that are home to some of the oldest and most prestigious wine farms. Relax under the shade of an oak tree and toast the day away as we create memories that will last a lifetime.
After our tour, the remainder of the day is yours to do as you wish.
Breakfast + Snack Included
Our Final Day!!!
Rise and shine as we enjoy our final full day in the Mother City, Cape Town!
You can enjoy last minute shopping at the Waterfront, relax in your room or take advantage of the hotel amenities. The choice is yours to bare.
Later that evening, we will convene for our last dinner together. Come prepared to share pictures and memories!
Dinner Included
Farewell
You Came. You Saw. You Conquered.  Farewell for now and we wish you safe travels back home.
We look forward to seeing you again, somewhere around the world.
W H A T ' S  I N C L U D E D  ?
11 BREAKFAST, 4 LUNCHES, 1 SNACK, 4 DINNERS
JO'BURG GUIDED WALKING TOUR
SAFARI GAME DRIVE EXPERIENCE
ROBBEN ISLAND GUIDED TOUR
SCULPTURE PARK PICNIC & TOUR
3 DIFFERENT HOTEL ACCOMMODATIONS
( JO'BURG, Maropeng, & CAPE TOWN)
PRIVATE ROOM OPTION (LIMITED)
***Only Domestic Airfare Within The South Africa Itinerary are Included*** 
(JNB to CPT)  
***International Flights are not included. Please do not purchase international airfare until you have received a confirmation email from      
Black Girls Travel Too confirming your reservations.***
G O T   Q U E S T I O N  S  ?
Is a Visa and Passport required?
U.S. citizen tourists entering South Africa for fewer than 90 days do not require a visa. However, a valid passport with a least 2 Visa pages is required and it is recommended that your passport be valid for at least six months beyond the date of your entry into South Africa to ease entry.
When should I purchase my airfare? 
You should purchase your airfare as soon as you receive your South Africa confirmation email.
What is the arrival airport? 
The arrival airport is O.R. Tambo International Airport (JNB).
What is the departure  airport? 
The departure airport is Cape Town International Airport (CPT).
How will I commute from O.R. Tambo International Airport to my accommodations?
We provide complimentary roundtrip airport transfers in South Africa.
Where are we staying?
You'll stay 4 nights in Johannesburg, 3 night in Maropeng, and 4 nights in Cape Town.
Are there any private rooms options available? 
Of course!  Our private room charge is an additional cost of $790.00 and subject to availability.  To request a private room, email support@blackgirlstraveltoo.com.
I really want to travel with your group, but I feel like I may be too young or too old.
No worries at all!  When it comes to travel age is nothing but a number.  Our trip Experiencers range between the ages of 25-65.  There has not been one time that a traveler felt awkward because of their age traveling with Black Girls Travel Too.
Are your trips designed to serve large groups?
Totally the opposite.  We understand the importance of intimate groups.  Our trips are designed for more high touch and exclusive experience.  You get access that you probably wouldn't get with a larger group.  This unique experience allows you to create a community amongst your fellow travelers. Giving you insider access that larger groups aren't afforded.
Is this trip refundable? 
Due to the intimate size of this group trip, preparation, and vendor contract, there will be No Refunds issued for the Black Girls Travel Too South Africa Experience Tour.  By purchasing this package, you acknowledge and agree to our No Refund policy.  However, by purchasing trip cancellation coverage you forgo the unnecessary worries around what happens if an emergency occurs and you can't make your trip.  www.travelguard.com is one of many providers that offer a variety of coverage, including The Cancel For Any Reason (CFAR) option provided that you cancel your trip more than 48 hours prior to your departure, you're eligible for a full refund. (other insurance companies that offer travel insurance in South Africa. www.globaltravel.com, www.insuremytrip.com, www.quotetravelinsurance.com, and www.worldnomads.com).
What insurance coverage is necessary?
Travel insurance with the option for trip cancellation is required to attend this South Africa trip.  There will be no exceptions.  Black Girls Travel Too will verify that each traveler has said insurance (Travel Insurance with Trip Cancellation) prior to departure.  There will be no exceptions.
Do I need to know any other languages to attend this trip?
Not at all, as English is a spoken language throughout South Africa.
How do I learn about the unique culture and customs of Southern Africa? 
Guidebooks for South Africa such as Lonely Planet, can provide some very good summaries about the country's history and culture which will enhance your experience of your trip. Also as a Black Girls Travel Too Experiencer you will be provided with a pre-departure packet that will share in detail the South South African culture.
W H A T  A B O U T
P A Y M E N T  P L A N S   ?
By purchasing a trip from Black Girls Travel Too, you acknowledge and are aware that the trip details are subject to change.  The itinerary was curated in good faith and any mention of specific destinations does not guarantee that they will be visited nor does it forfeit the contract between the purchaser and the seller. Our itinerary has been put together with care and intention, however as we may deem it fit to make adjustments that stem from political affairs, weather changes, local concerns, and etc. Our number one goal is to ensure that we provide you with a memorable experience. To ensure that our goal is your goal as well, print a final copy of your itinerary for your review prior to your departure for your trip. You also acknowledge and agree that there are inherent risks associated with any activities you may partake in. Therefore, you understand, agree, and assume full responsibility for such risk that you alone are responsible for based upon your decision to participate in such activities.  There are no refunds after confirmation of your reservation.  However, if your reservation is not confirmed due to availability you will be refunded in full.