W  H  E  R  E     A  R  E     W  E     G  O  I  N  G  ?
London, the capital and most popular city in England and the United Kingdom, is situated on the Thames River in the southeastern sector of the island of Great Britain. Contributing to its prominence as a world leading destination experience, London proudly boasts a diverse palate all at your disposal, encompassing arts, commerce, education, entertainment, fashion, finance, health care, media, professional services, tourism, and transport! London embodies cultural and ethnical diversity with over 300 languages spoken in greater London on a day-to-day basis and it is continuing to grow. In part with the vibrancy of different cultures, the crown cultural jewels of London are the World Heritage Sites; Maritime Greenwich, The Palace of Westminster, The Royal Botanic Gardens at Kew, and The Tower of London. Intermixed within the city are the classic and modern wonders, Buckingham Palace, London Eye, Piccadilly Circus, Big Ben, Tower Bridge, Saint Paul Cathedral and Trafalgar Square.
Paris is a city known for its beautiful monuments, impressive art scene, and vibrant culture. It is home to over 2.1 million people, making it one of the most populous cities in Europe. The French state has a long history of supporting the arts, including literature, music, and visual art. From the iconic Eiffel Tower to the stunning Notre Dame Cathedral, Paris has many stunning landmarks to explore. Whether you're looking for an art museum, a jazz club, or a delightful café, there's something for everyone in the City of Lights.
W  H  E  N     A  R  E     W  E     G  O  I  N  G  ?
J  U  L  Y  6 t h  –  1  4  t h , 2 0 2 3 
(SPACES ARE LIMITED)
T  H  E     R  U  N     D  O  W  N
Upon your arrival to London, you'll quickly dive straight into the hustle and bustle of the city upon your arrival. With London's fast pace and diversified culture, it's no wonder why New York is referenced when one thinks of this dynamic city.
With 4 nights in a local premier hotel, situated minutes from the St Pancras Station, where you can find a slew of restaurants and a galore of retail stores . Enjoy a day visit to the famous Stonehenge, where you will be enchanted with the outer ring of vertical sarsen standing stones, each around 13 feet high, seven feet wide, and weighing around 25 tons, topped by connecting horizontal lintel stones. We will enjoy a visit to Windsor Castle, where Prince Harry and Megan Markle wedded. Finishing our day on the countryside of southwest England, Bath known for its natural hot springs and 18th century Georgian Architecture and the best Crepes the world has to offer at the real Italian Ice Cream Bar.
Upon your arrival to the home of Louvre Museum, Notre-Dame Cathedral, and the Eiffel Tower. Paris, also known for its gastronomy and home of the best croissants in the world immediately sucks you into a twisted love affair of rich culture, architecture, and fashion.
Upon arriving in Paris, the city of love and romance, the beauty of its cultural attractions, the grandeur of its architecture, and the stylishness of its fashion will captivate you. From the mesmerizing Louvre Museum and Notre-Dame Cathedral to the iconic Eiffel Tower, the city of Paris is a sight to behold. A city renowned for its exquisite gastronomy, offering some of the best croissants in the world. From romance, culture, or delicious food, Paris will surely satisfy all your desires and more.
LOCAL ADVISED ITINERARY . . . When you travel with Black Girls Travel Too, we offer the unique blend of both major attractions and off the beaten path experiences to ensure you a well-rounded experience in the city.
THE ROYAL TREATMENT . . . We have mastered the art of customer care, with 24/7 online team member access before, during and after your travels with BGTT. From currency conversion to purchasing an Oyster card for the tube, we got you covered and will ensure you have an epic experience from start to finish.
PROFESSIONAL PHOTOGRAPHER IN TOW . . . You heard us right, every day will be a photoshoot! You'll be so immersed in the moment as we take the city, and professional photographs will allow you to relive the moment, time and time again. Daily, a digital link will be delivered to you with the previous day's memories. Giving you the power to share on your favorite social media accounts as you please!
INTIMATE GROUPS . . . We pride ourselves on offering small intimate tours to ensure each traveler a richer experience. Unlike large tour groups, traveling with a small group allows us more flexibility and to be less conspicuous for exploring with the locals.
Inclusive Round Trip airport transfers from and to London Heathrow International Airport are included when you travel with Black Girls Travel Too. Hello, stress free traveling!
YOU,
LONDON & PARIS,
AND THE BLACK GIRLS TRAVEL TOO EXPERIENCE
So, you've had your eye on a London & Paris getaway for some time now…
You followed our experiences that have spanned all corners of the world, you witnessed thousands of travelers grace our Instagram and other social media platforms, you pinned your life away on Pinterest planning the trip you work hard for and deserve, the desire to immerse yourself in a modern and classic culture has you up in arms with excitement, but there's a hesitation.
What is it like traveling with Black Girls Travel Too? This is new territory for me so how can I be sure I'll enjoy myself, and my closest loved ones are skeptical, in turn, having me question should I invest in this experience?
With Black Girls Travel Too, your hesitations are our motivations. As a premier black owned and operated traveling service we've dealt with our share of skepticism and prejudices early on, now we accredit our passion of going above and beyond a traveler's expectations to ensure you the invaluable experience you deserve to be a part of. That hesitation you may be experiencing is familiar to us as well. A stigma placed on women of color is that we are uncultured, even undeserving of a life filled with jet-setting and pages of passport stamps. Nothing could be further from the truth, so we decided to change the narrative.
By cultivating only the best partnerships across the globe, investing in premier quality customer care teams, immersing in education and vetting the world's most prized possession, a black woman to take trips of a lifetime with, your life is forever changed for the better.
We silenced the noise and lived up to no one's expectations of our lives but our OWN!
You deserve a seat at this table, and we are saving one for you. It's your time, pack your bags and let us take care of everything else!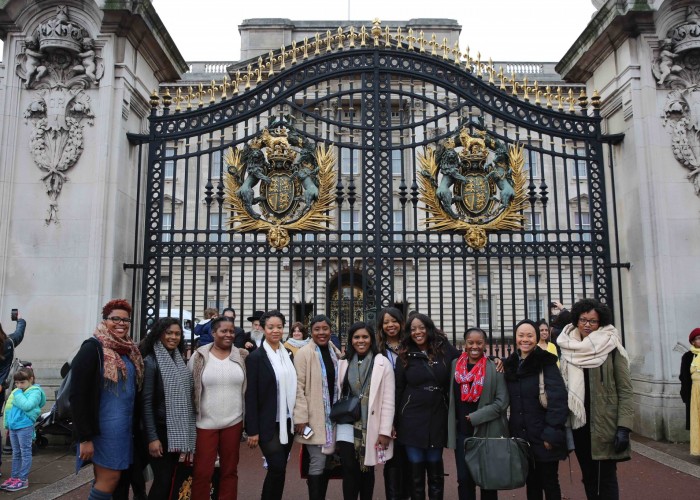 1
D A Y
Arrive at Heathrow Airport, where you will be welcomed by our Black Girls Travel Too Ambassador and greet your fellow travelers for a full week of self-discovery and new experiences.
Upon your arrival and check-in to your home away from home, the afternoon is yours to roam the trendy streets of London or hop on the tube to delve right into the London life.
Later in the evening, we will gather together for an official meet and greet, a delectable welcome dinner, at one of London's local restaurants.
Rise and shine for a true traditional English breakfast. Londoners love nothing more than a hearty breakfast, which is what you'll need to fuel you for the day ahead. After breakfast, prepare to discover and explore breathtaking beauty and history of royal London by bike, on our morning guided bike tour. Enjoy the landscape, as we cruise through some of London's most famous parks and learn from our local tour guide, London's rich history and contemporary culture. Hear Insightful commentary of colorful context from your local guide. After our tour the remainder of the day and evening is yours to relax, experience and enjoy! Feel free to venture out to see the London Eye or perhaps catch an amazing view of the Famous Big Ben.
Breakfast Included
If there's anything to remember about London, it's their hearty English Breakfast and we are sure you will feel the same sentiments as we do.
After breakfast, we continue to soak up the fascinating history of London and a Black History Walk Tour is a great way to explore more of it. This walk provides a greater opportunity to learn about the impact of influential black people throughout London's history.
Breakfast Included
D A Y
4
Wake up early for a venture outside of London to some of the most notable attractions the city has to offer. A day trip to Stonehenge, Windsor Castle, and the historic town of Bath.
We will begin our tour at the architecturally appealing Windsor Castle, home of the British Royal Family for a tour of the prestigious State Apartment and St. George's Chapel, furnished with some of the world's finest art from the Royal Collection. Then we scurry west of London to Salisbury, home of the famous Stonehenge rock formations. Once in Bath, known for its elegant Georgian architecture and Roman Baths, enjoy a panoramic tour of the Georgian Baths.
Breakfast Included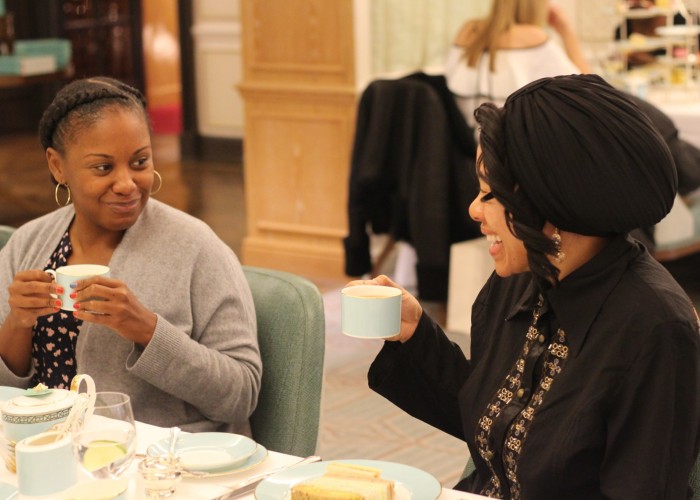 After breakfast, we will depart our accommodation for a short flight to Paris, for the remainder of our experience together.
Once we've touched down at Paris Charles de Gaulle Airport, we will be whisked away to our home away from home for the next four nights.
Later that evening we will join one another for an amazing welcome dinner to Paris.
Breakfast + Dinner Included
Wow, London was such a vibe, but now it's time for all the things that Paris has to offer and then some.
After breakfast, we'll start our Paris experience by diving right into the rich culture and history, and a black cultural tour is the perfect way to dive into it. From the Panthéon to the Catacombs, you'll get to explore the city through the lens of its African diaspora, experiencing a unique and engaging perspective of the city. In addition, you'll get to learn about the contributions of African-descended people throughout French history
Breakfast Included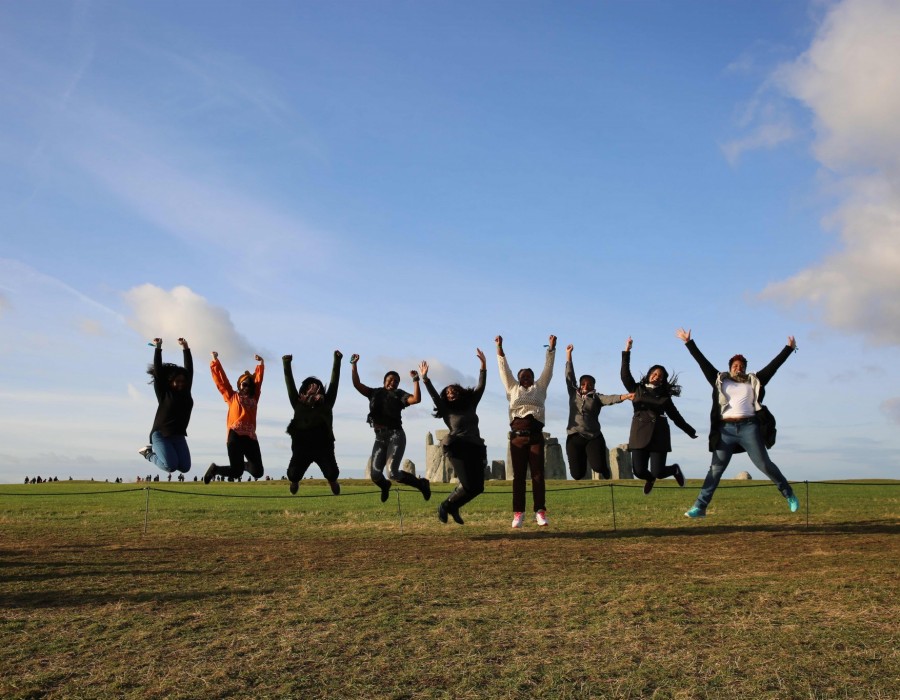 7
D A Y
As you now know, Paris is known for so many things. From its rich culture, exquisite cuisine, and beautiful art. And what a fantastic way to experience the best of Paris! A 3 ½ hour private tour of one of the city's renowned champagne regions, followed by a delicious lunch and champagne pairing – it sounds like an unforgettable experience. You'll get to learn about the entire champagne making process, from to finish, and enjoy a delicious meal to top it all off. And afterwards, you'll be taken back to your accommodation so you can spend the rest of the evening however you please. It's sure to be an incredible day!
Breakfast + Lunch  Included
It's our final full day together in Paris. After breakfast, the day is yours to catch up on some last minute shopping or perhaps you want to visit some museums, or even have lunch at the Eiffel Tower. No matter what you choose to do, the day is yours.
Later that evening, we will get all dolled up for our last official dinner together. And in true Black Girls Travel Too fashion, it's gonna be a dinner to remember and more.
Breakfast + Lunch Included
Enjoy your final breakfast in Paris. After breakfast, wrap up any loose ends and indulge just one last time if you'd like as we begin to prepare for your airport departure by a private BGTT shuttle to Paris Charles de Gaulle Airport.
Can't wait to see you on the next trip, bon voyage.
W H A T ' S  I N C L U D E D  ?
8 BREAKFAST, 2 LUNCHES,
3 DINNERS
9 DAYS + 6 NIGHTS ACCOMODATIONS
LONDON BLACK HISTORY WALKING TOUR
STONEHENGE, WINDSOR CASTLE, & BATH TOUR
PICKUP/DROP OFF AIRPORT TRANSPORTATION (LHR)
PARIS BLACK HISTORY WALKING TOUR
***Airfare Not Included***
***Please do not purchase airfare until you have received a confirmation email from Black Girls Travel Too confirming your reservations.***
G O T   Q U E S T I O N  S  ?
Do I need a passport?
Yes. In order to travel to London and Paris you must have a valid passport.
How many blank passport pages do I need in order to travel to London and Paris?
Currently you will need one blank passport page for England and one blank passport page for France.  However, this requirement can change.  Please reference the state department website by clicking here and navigating mid page to "Learn about your destination".
Is this trip refundable?
If you decide to cancel your trip with Black Girls Travel Too within 72 hours of your purchase, you will be entitled to a full refund for the trip package only. This refund will be reimbursed to you within 5-7 business days. This does not include flights as you would have purchased this through a third party. For this reason, we require that you all travelers must purchase traveler's insurance that covers any payments made prior to your departure whether that be flights, tours or trip packages etc.
In the event that you decide to cancel your trip beyond 72 hours, you will need to go through your selected travel insurance provider to claim a full reimbursement as you will not be eligible for a refund from Black Girls Travel Too.
Are flights included in the purchase of the package?
Flights to London and from Paris back to your home of origin are not included within the purchase of the Black Girls Travel Too London and Paris 2023 Experience. However, your inner country flight from London to Paris are included.
If you need assistance in selecting the best flight for you, feel free to contact us at support@blackgirlstraveltoo.com.
What is the Pound conversion rate?
The currency in England is the British Pound Sterling (GBP) also simply referred to as the pound (£). The pound is converted at the rate of £1.00 (GBP) to $1.22 (USD).
How much spending money will I need while in London?
You will need about $1,200.00 USD.  However, if you wish to buy several gifts or are an enthusiastic shopping you should bring $1,250-$1,800 USD.
What currency will I need for London and Paris, France?
The currency for London is British Pound. The currency for France is the Euro.
When should I purchase my airfare?
You should purchase your airfare as soon as you receive your London confirmation email.
What is the arrival airport?
The arrival and departure airport is London Heathrow Airport, airport code (LHR).
What is the departure airport?
The arrival and departure airport is London Heathrow Airport, airport code (CDG).
How will I commute from London Heathrow Airport to my accommodations?
We provide complimentary roundtrip airport transfers from London to your accommodations.
How will I commute from Paris Charles de Gaulle Airport to my accommodations?
We provide complimentary roundtrip airport transfers from to your accommodations.
Where are we staying?
We will spend 9 days/8 nights between London & Paris in a contemporary, stylish, and cosmopolitan hotel.
Are there any private room options available? 
Of course! Our private room charge is an additional one time fee of $850.00 To request a private room, email support@blackgirlstraveltoo.com.
I really want to travel with your group, but I feel like I may be too young or too old.
No worries at all!  When it comes to travel age is nothing but a number.  Our BGTT Experiencers range between the ages of 21-50.  There has not been one time that a traveler felt awkward because of their age traveling with Black Girls Travel Too.
Are your trips designed to serve large groups?
Totally the opposite.  We understand the importance of intimate groups.  Our trips are designed for a more intimate and exclusive experience.  You'll receive access that you probably wouldn't get with a larger group.  This unique experience allows you to create a community amongst your fellow travelers. Giving you insider access that larger groups aren't afforded.
W H A T  A B O U T
P A Y M E N T  P L A N S   ?
By purchasing a trip from Black Girls Travel Too, you acknowledge and are aware that the trip details are subject to change.  The itinerary was curated in good faith and any mention of specific destinations does not guarantee that they will be visited nor does it forfeit the contract between the purchaser and the seller. Our itinerary has been put together with care and intention, however as we may deem it fit to make adjustments that stem from political affairs, weather changes, local concerns, and etc. Our number one goal is to ensure that we provide you with a memorable experience. To ensure that our goal is your goal as well, print a final copy of your itinerary for your review prior to your departure for your trip. You also acknowledge and agree that there are inherent risks associated with any activities you may partake in. Therefore, you understand, agree, and assume full responsibility for such risk that you alone are responsible for based upon your decision to participate in such activities.  There are no refunds after confirmation of your reservation.  However, if your reservation is not confirmed due to availability you will be refunded in full.
She was like an all inclusive trip that entailed no motivation, no inspiration, never the smartest kid in the class, growing up in an underserved community in Mobile, Alabama and no budding aspirations to stray off the beaten path…..yet she landed as a pioneer in the black travel movement, a socially engaged businesswoman, wife, mother and friend. When people say, "Started from the bottom now we here", BGTT founder, Dianelle Rivers- Mitchell (Danny) embodies that defining journey that she was blessed to not become a statistic but a success.