W  H  E  R  E     A  R  E     W  E     G  O  I  N  G  ?
India, officially known as the Republic of India, is a country located in South Asia. It is the seventh largest country by area, the second most populous country and democracy in the world. Famous for its ancient history, varied landscapes, diverse culture, and home to one of the greatest examples of love… the Taj Mahal. Attracting over 7 million visitors a year, and undoubtedly one of the most famous and stunning buildings in India, it is the story around this breathtaking beauty of architecture that keeps the desire for love alive.
Located in Agra, the massive mausoleum complex built by emperor Shah Jahan as a symbol of his love for his wife, Mumtaz Mahal, who died after giving birth to one of their children.
From the mesmerizing examples of Indian architecture throughout the country and the complex history, you are sure to find yourself engulfed in all that India has to offer.
W  H  E  N     A  R  E     W  E
G  O  I  N  G  ?
November 9 – 17, 2023
(SPACES ARE LIMITED)
T  H  E     R  U  N     D  O  W  N
What better way to spend your vacation than visiting the home of the Taj Mahal! Upon arrival, you will be introduced to the hustle and bustle of India. From horns blowing in every direction to 4 lanes evolving into 8. Welcome to the country that occupies the greater part of South Asia.
With 8 days and 7 nights exploring New Delhi, Agra, Ranthambore and Jaipur, you are sure to become fully immersed into Indian culture.

Delhi: Your initial experience begins here as you learn from locals on the ground the history of India while visiting some of their most celebrated monuments, such as the Raj ghat. A memorial dedicated to Mahatma Gandhi.
Agra: We will witness the greatest symbol of love, the Taj Mahal and UNESCO World Heritage site during our exploration in Agra.
Ranthambore: Where we will partake in an early morning jungle safari game drive where many wildlife reside, including tigers and panthers.
Jaipur: The Pink City, where buildings are bathed in variations of pink hues. The city of hospitality is draped with bazaars, forts, temples, palaces and wildlife sanctuaries.
LOCAL ADVISED ITINERARY . . . When you travel with Black Girls Travel Too, we offer a unique blend of both major attractions and off the beaten path experiences to ensure you a well-rounded experience.
THE HIGH TOUCH TREATMENT . . . We have mastered the art of customer care, with 24/7 online team member access before, during and after your travels with BGTT. From currency conversion to what to expect, we got you covered and will ensure you have an epic experience from start to finish.
PROFESSIONAL PHOTOGRAPHER IN TOW . . .  You heard us right, every day will be a photoshoot! You'll be so immersed in the moment as we take the city, and professional photographs will allow you to relive the moment, time and time again. Daily, a digital link will be delivered to you with the previous day's memories. Giving you the power to share on your favorite social media accounts as you please!
INTIMATE GROUPS . . . We pride ourselves on offering small intimate tours to ensure each traveler a richer experience. Unlike large tour groups, traveling with a small group allows us more flexibility and to be less conspicuous for exploring with the locals.
Inclusive Round Trip airport transfers from and to Indira Gandhi International Airport (DEL) are included when you travel with BGTT. Hello, stress free traveling!
YOU,
INDIA,
AND THE BLACK GIRLS TRAVEL TOO EXPERIENCE
So, you've had your eyes on an India getaway for some time now...
You've followed our experiences that have spanned all corners of the world on our Instagram and other social media platforms, you've pinned your life away on Pinterest planning the trip you work hard for and deserve, the desire to immerse yourself into a modern and classic culture has you up in arms with excitement, but there's a hesitation.
What is it like traveling with Black Girls Travel Too? This is new territory for me so how can I be sure I'll enjoy myself, and my closest loved ones are skeptical, in turn, having me question should I invest in this experience?
With Black Girls Travel Too, your hesitations are our motivations. As a premier black owned and operated traveling service, we've dealt with our share of skepticism and prejudices early on, now we accredit our passion of going above and beyond a traveler's expectations to ensure you the invaluable experience you deserve to be a part of. That hesitation you may be experiencing is familiar to us as well. A stigma placed on women of color is that we are uncultured, even undeserving of a life filled with jet-setting and pages of passport stamps.
Nothing could be further from the truth, so we decided to change the rules.
By cultivating only the best partnerships across the globe, investing in premier quality customer care teams, immersing in education and vetting the world's most prized possession, a black woman to take trips of a lifetime with, your life is forever changed for the better.
We silence the noise and live up to no one's expectations of our lives but our OWN!
You deserve a seat at this table, and we are saving one just for you. It's your time, pack your bags and let us take care of everything else!
D A Y
1
Arrive at Indira Gandhi International Airport (DEL) where you will be welcomed in Indian tradition with garlanding and greet your Black Girls Travel Too Ambassador and fellow travelers for 9 days and 8 nights of self-discovery and new experiences.
After completing check-in, the afternoon is yours to recover from your flight or check out the local scene at nearby cafes and bars as well as the colorful and unique bazaars.
Later that evening, join us for the Black Girls Travel Too official Meet & Greet, a scrumptious welcome dinner, at one of Delhi's  premier restaurants.
Dinner Included
After morning breakfast, we will fill our day with a guided tour of Old and New Delhi. Stop and pay homage to notable figures at nearby memorials. Marvel in wonder at the grandeur of Delhi's  UNESCO world heritage sites. Take out your camera to capture the beauty of the historic monuments and buildings. With so many places to visit, you will never fall short of being amazed at any of these breathtaking sites.
After the tour concludes, feel free to continue your adventure in Delhi at your own pace.
Breakfast Included
We are finally settled in and on our way to a second full day of experiences. After breakfast we will check-out of the hotel and start our drive in a private coach to Agra and check-in to our new accommodations. After check-in, we will explore Agra by visiting Agra Fort followed by a visit to Taj Mahal.
After our tour, the remainder of the day is yours to do as you please. Perhaps there are some bucket list items you have of your own that you wish to check off your list while in Agra. Whatever it may be, it's your time.
Breakfast Included
D A Y
4
AGRA/FATEHPUR/SIKRI/RANTHAMBORE
After breakfast we will depart for Ranthambore… prior to arriving in Ranthambore we will visit Fatehpur Sikri, the deserted red sandstone city built by the Mughal Emperor Akbar. Post our visit at Fatehpur, we will shortly arrive at Ranthambore, famous for the wildlife sanctuary and check-in to hotel and overnight stay.
After check-in, the remainder of the afternoon is yours to do as you please.
Breakfast Included
What's better than one game drive?!? Two!!!
Early morning as we head out to enjoy a jungle safari game drive. The park, which is one of the finest tiger reserves in the country, is the main attraction of Ranthambore. After lunch before our second game drive, we will visit the famous Dastkari village where village women work under a NGO.
After our tour, the remainder of the evening will be yours to do as you wish.
Breakfast + Lunch + Dinner Included
Morning after breakfast, we will check out of our hotel and start our drive to Jaipur, the fabled pink city of the desert named after Jai Singh, the former Maharaja of Jaipur. This is the only city in the world symbolizing the nine divisions of the universe through the nine rectangular sectors subdividing it. The palace and the fort of yesteryears, which were witnesses to the royal processions and splendors, are now living monuments.
After arriving in Jaipur we will check into our accommodations and the remainder of the afternoon is yours to do as you please.
Breakfast Included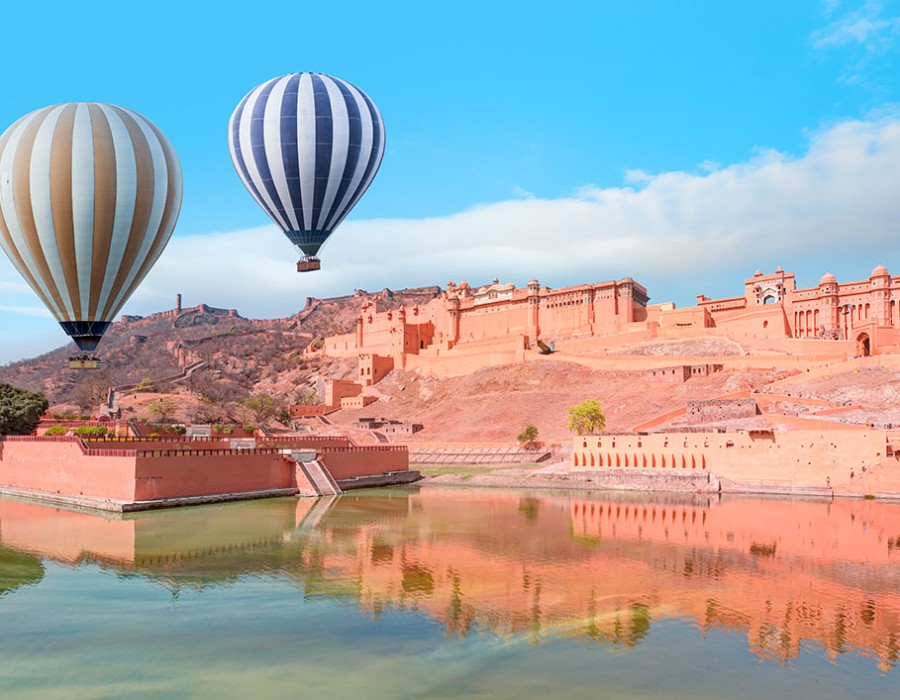 D A Y
7
After breakfast, we will visit the majestic Amber Fort as we make our way up to the former capital of the royals set against the backdrop of the wooded hills.
Later we will visit the Palace of Winds also known as Hawa Mahal, this elaborate building, now little more than a facade, is encrusted with delicate screens and carved balconies.
The past, present and future merge at Jai Singh Observatory, where time has accurately measured since the 17th century.
After touring, the remainder of the afternoon is yours to do as you wish.
Breakfast  Included
Morning after breakfast we will depart for our drive back to Delhi. Upon our return, we will check into our hotel. Later that evening, we will join for our last evening together in India together as we reflect over our exploration of the Golden Triangle Experience.
After dinner, we will return to the hotel and the remainder of the evening is yours.
Breakfast + Dinner Included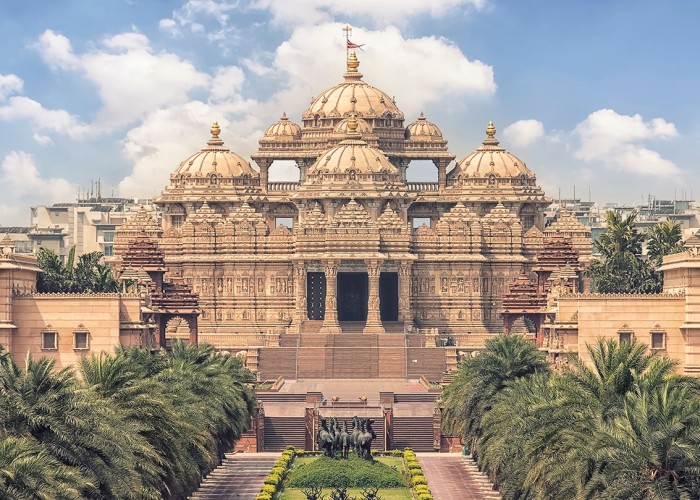 D A Y
9
Morning after breakfast, you will be collected and escorted to the airport to return to your respective home of residence.
Breakfast Included
W H A T ' S  I N C L U D E D  ?
FIVE STAR HOTEL ACCOMMODATIONS
PRIVATE ROOM UPON REQUEST (SPACE LIMITED)
ON THE GROUND BGTT LOCAL TEAM MEMBERS
2 JEEP SAFARI EXPERIENCES
ANY MEAL UNLESS SPECIFIED WITHIN THE ITINERARY.
ANY TIPS TO GUIDE AND DRIVERS
PERSONAL EXPENSES SUCH AS FOOD AND AND ALCOHOLIC AND NON ALCOHOLIC BEVERAGES
NOT INCLUDED WITHIN THE ITINERARY
TRAVEL & MEDICAL INSURANCE
SERVICES NOT SPECIFIED WITHIN THE ITINERARY
***International Flights are not included. Please do not purchase international airfare until you have received a confirmation email from Black Girls Travel Too confirming your reservations.***
G O T   Q U E S T I O N  S  ?
Is a Visa and Passport required?
Yes. All U.S. citizens need a valid passport and valid Indian visa to enter and exit India for any purpose. Many visitors, including those on official U.S. government business, must apply for visas at an Indian embassy or consulate abroad before entering the country.
When should I purchase my airfare? 
You should purchase your airfare as soon as you receive your India confirmation email.
What is the arrival airport? 
The arrival and departure airport is Delhi Indira Gandhi International Airport (DEL).
How will I commute from Delhi Indira Gandhi International Airport to my accommodations?
We provide complimentary roundtrip airport transfers in India.
Where are we staying?
You'll stay in 5 Star hotel accommodations throughout Delhi, Agra, Ranthambhore, and Jaipur.
Are there any private rooms options available? 
Of course!  Our private room charge is an additional cost of $1190 and subject to availability.  To request a private room, email support@blackgirlstraveltoo.com.
I really want to travel with your group, but I feel like I may be too young or too old.
No worries at all!  When it comes to travel age is nothing but a number.  Our trip Experiencers range between the ages of 20-50.  There has not been one time that a traveler felt awkward because of their age traveling with Black Girls Travel Too.
Are your trips designed to serve large groups?
Totally the opposite.  We understand the importance of intimate groups.  Our trips are designed for a more high touch and exclusive experience.  You get access that you probably wouldn't get with a larger group.  This unique experience allows you to create a community amongst your fellow travelers. Giving you insider access that larger groups aren't afforded.
Is this trip refundable? 
Due to the intimate size of this group trip, preparation, and vendor contract, there will be No Refunds issued for the Black Girls Travel Too India Experience Tour.  By purchasing this package, you acknowledge and agree to our No Refund policy.  However, by purchasing trip cancellation coverage you forgo the unnecessary worries around what happens if an emergency occurs and you can't make your trip.  www.travelguard.com is one of many providers that offer a variety of coverage, including The Cancel For Any Reason (CFAR) option provided that you cancel your trip more than 48 hours prior to your departure, you're eligible for a full refund. (other insurance companies that offer travel insurance in Thailand. www.globaltravel.com, www.insuremytrip.com, www.quotetravelinsurance.com, and www.worldnomads.com).
What insurance coverage is necessary?
Travel insurance with the option for trip cancellation is required to attend this India trip.  There will be no exceptions.  Black Girls Travel Too will verify that each traveler has said insurance (Travel Insurance with Trip Cancellation) prior to departure.  There will be no exceptions.
Do I need to know any Indian languages to attend this trip?
Not at all!  We will have a bilingual tour guide.  However, to know a few words would not be a bad thing.  In fact, it may increase your experience in India and make it more rewarding if you are able to speak some of the native language with the locals.
How do I learn about the unique culture and customs of India? 
Guidebooks for India such as Lonely Planet, can provide some very good summaries about the country's history and culture which will enhance your experience of your trip.
W H A T  A B O U T
P A Y M E N T  P L A N S   ?
By purchasing a trip from Black Girls Travel Too, you acknowledge and are aware that the trip details are subject to change.  The itinerary was curated in good faith and any mention of specific destinations does not guarantee that they will be visited nor does it forfeit the contract between the purchaser and the seller. Our itinerary has been put together with care and intention, however as we may deem it fit to make adjustments that stem from political affairs, weather changes, local concerns, and etc. Our number one goal is to ensure that we provide you with a memorable experience. To ensure that our goal is your goal as well, print a final copy of your itinerary for your review prior to your departure for your trip. You also acknowledge and agree that there are inherent risks associated with any activities you may partake in. Therefore, you understand, agree, and assume full responsibility for such risk that you alone are responsible for based upon your decision to participate in such activities.  There are no refunds after confirmation of your reservation.  However, if your reservation is not confirmed due to availability you will be refunded in full.
She was like an all inclusive trip that entailed no motivation, no inspiration, never the smartest kid in the class, growing up in an underserved community in Mobile, Alabama and no budding aspirations to stray off the beaten path…..yet she landed as a pioneer in the black travel movement, a socially engaged businesswoman, wife, mother and friend. When people say, "Started from the bottom now we here", BGTT founder, Dianelle Rivers- Mitchell (Danny) embodies that defining journey that she was blessed to not become a statistic but a success.