W  H  E  R  E     A  R  E     W  E     G  O  I  N  G  ?
B A R B A D O S
V A L E N T I N E S
You GET IT! You understand that doing a good deed is always nice, returning a lost wallet to a stranger, buying a homeless person a breakfast meal, helping an elderly person across the street, these acts all help somebody and make you feel good. But, what if your impact wasn't just a temporary thing, what if it not only changed somebodies' day, but changed their life? What if you can treat yourself to a destination vacation experience and take a uniquely amazing approach to giving back?  Well we can't wait to share this fulfilling voluntourism experience with you that includes a few days of volunteering, mixed in with "for-fun" travel.
Our destination, Barbados, the 21-by-14-mile Caribbean paradise that embodies crystal blue waters, fine powdery sand, brilliant turquoise bays and smashing nightlife, is situated in the North Atlantic Ocean as the easternmost island of the Lesser Antilles in the West Indies. Bridgetown, the capital of Barbados, is the epicenter, with its eclectic mix of rag-tag, shanty-style vendors hawking everything from homegrown vegetables, fruits, underwear, toiletries, cleaning products, clothes, and purses.
Barbados voluntourism more than just combines volunteering and sightseeing! This experience allows you the unique opportunity to contribute to sustainable development while exploring the island nation and its alluring culture! Voluntourists are no different than BGTT previous travelers in one key regard: They want to see new, different parts of the world, and doing so while doing something good for the local community, which makes the experience all the more appealing. As a voluntourist in Barbados, you will be situated to uncover a new country and explore its unseen side, learn about the culture first-hand and play a vital role in the social and economic efforts.
W  H  E  N     A  R  E     W  E
  G  O  I  N  G  ?
M A Y    5  t h  –  1 1 t h  2 0 2 2
M A Y    1 2  t h  –  1 8 t h  2 0 2 2
M A Y    1 9  t h  –  2 5 t h  2 0 2 2
(SPACES ARE LIMITED)
Who is the voluntourism experience is for?
Women who have a heart for humanity, a desire to vacation and a spirit for helping, you DESERVE this experience. Voluntourism serves as the fastest growing part of travel and for good reason. We all share in the economic and social responsibility to make a difference and make an impact when we can and while we can!
A few ways your voluntourism experience can transform lives and make real impact:
• By participating in voluntourism, you are contributing to the local economy. In their free time, most volunteers take advantage of the opportunity to go sightseeing, like going on game drives and island tours. Many developing countries rely heavily on the income from tourism and voluntourism companies and volunteers support local businesses.
• When you take part in a BGTT voluntourism experience you are helping to implement long-term development. Use your skills, time, and energy to make a difference that will last long after you have returned home. By encouraging an under-appreciated mother to keep her head high so her crown doesn't slip, that maybe all the motivation she needed to push through! When you assist in beautification efforts, you are leaving an impression to the upcoming generation that we value our society and all have a responsibility to care for it. When you encourage a struggling parent or family to stay the course, they are deserving of the victory that comes from preservation and by assisting in feeding efforts in underserved communities you are helping support a system of change.
T  H  E     R  U  N     D  O  W  N
Upon your arrival, the Barbadian culture permeates you! The island appeals to a vast array of travelers and you will quickly experience the beauty, challenges, and determination of the Bajan people.
You'll rest peacefully in a renowned hotel, steps away from a serene Beach for 6 nights.  During this BGTT experience, you will be immersed in community, culture, and cuisine as if you were a local.  Walking distance from our hotel, you'll find shops and eateries that entices you to indulge in Bajan favorites like fried flying fish, macaroni pie, rice "n" peas, curry lamb and plenty more! Quickly becoming acclimated to the Barbados landscape, you will begin to roam the streets of Barbados and experience the beautiful interior dotted with gardens, all inhabited by a proud and welcoming populace.
From working alongside locals of the community in a soup kitchen, assisting with neighborhood cleanup efforts, sharing your career with the children of the community, to a guided island tour, and a morning sail aboard a catamaran.  There has never been a more exciting time to take part in a voluntourism experience in Barbados.
LOCAL ADVISED ITINERARY . . .When you travel with Black Girls Travel Too, we offer the unique blend of both major attractions and off the beaten path experiences to ensure you a well-rounded experience in the city.
THE ROYAL TREATMENT . . .We have mastered the art of customer care, with 24/7 online team member access before, during and after your travels with BGTT. From currency conversion to transportation, we got you covered and will ensure you have an epic experience from start to finish.
PROFESSIONAL PHOTOGRAPHER IN TOW . . . You heard us right, every day will be a photoshoot! You'll be so immersed in the moment as we take the island, and professional photographs will allow you to relive the moment time and time again. Daily, a digital link will be delivered to you with the previous day's memories. Giving you the power to share on your favorite social media accounts as you please!
INTIMATE GROUPS . . . We pride ourselves on offering small intimate tours to ensure each traveler a richer experience. Unlike large tour groups, traveling with a small group allows us more flexibility and to be less conspicuous for exploring with the locals.
Inclusive Round Trip airport transfers from and to Grantley Adams International Airport are included in your perks for traveling with BGTT. Hello stress free traveling!
YOU,
BARBADOS,
AND THE BLACK GIRLS TRAVEL TOO VOLUNTOURISM EXPERIENCE
So, you've had your heart set on a Voluntourism trip for some time now...
You followed our experiences that have spanned all corners of the world, you witnessed thousands of travelers grace our Instagram and other social media platforms, you pinned your life away on Pinterest planning the trip you work hard for and deserve, the desire to immerse yourself in a modern and classic culture has you up in arms with excitement, but there's a hesitation.
What is it like traveling with Black Girls Travel Too? This is new territory for me so how can I be sure I'll enjoy myself, and my closet loved ones are skeptical, in turn, having me question should I invest in this experience?
With Black Girls Travel Too, your hesitations are our motivations. As a premier black-owned and operated traveling service we've dealt with our share of skepticism and prejudices early on, now we accredit our passion of going above and beyond a traveler's expectations to ensuring you the invaluable experience you deserve to be a part of. That hesitation you may be experiencing is familiar to us as well. A stigma placed on women of color is that we are uncultured even undeserving of a life filled with jet-setting and pages of passport stamps.  Nothing could be further from the truth, so we decided to change the rules.
By cultivating only the best partnerships across the globe, investing in premier quality customer care teams, immersing in education and vetting the world's most prized possession, a black woman to take trips of a lifetime with, your life is forever changed for the better.
We silenced the noise and live up to no one's expectations of our lives but our OWN!
You deserve a seat at this table, and we are saving one for you. It's your time, pack your bags and let us take care of everything else!
1
D A Y
Welcome To Barbados! Minutes after arriving at the Grantley Adams International Airport (BGI) you will be greeted by our Black Girls Travel Too Ambassador and will meet your fellow voluntourist. Your BGTT ambassador will assist you in retrieving your luggage from baggage claim and escort you through a dedicated fast lane at customs. Now, you are ready for the real fun to commence! Your ambassador will guide you to your complimentary BGTT shuttle service where you will be greeted with a warm hello from your driver, fresh cold towels, and beverages. Your driver will transport you and your fellow BGTT voluntourist from the airport to your home away from home for the next 7 days! Yes, this is all minutes after you've landed on the island ladies when we said Black Girls Travel Too was synonymous with inclusive and royal luxuries we meant it and you deserve it!
Check into your room at a renowned hotel and the afternoon is yours to see a polo match, take a tour of the surrounding area, take in the sights at the Holders Farmers Market that showcases only local products or hit up the Barbados Museum.  You have the freedom to decide! Later in the evening, we will gather together for an official meet and greet over a flavorful Bajan welcome dinner.
Dinner Included
Good Morning…waking up to the scenic views of Accra Beach's crystal blue waters you can enjoy a Bajan breakfast as you continue to connect with other BGTT voluntourist. As you clean up from breakfast, we will prepare for our first enriching day of volunteering in the community. First, we will be briefed with an overview of our work project and/or facility. Our work project will be situated amongst beautiful, but challenged communities therefore participants should dress to accommodate the tropical environment.
Once we complete our day of giving and befriending the local Bajans, we will return to our serene rooms and you are given the freedom to enjoy a calming stroll on Accra Beach or you can catch a quick power nap on one of the beach lounge chairs where the views and breeze from the Caribbean Sea soothe you to sleep like a baby. Your BGTT ambassador can detail optional cultural activities for your free time if you are undecided. Nonetheless, the afternoon is yours to enjoy a day well spent, you earned it!
Breakfast Included
Rise and shine, have you gotten use to those views yet?! Us either! Peel yourself from your relaxing room to fuel yourself for the day with a delectable Bajan style breakfast.  Our day is purposed to immerse us into people-to-people cultural awareness and educational sessions. Today, once we've journeyed to our project site we will focus on activities that highlight civil and global responsibility by bringing groups together to incorporate inclusiveness for locals and travelers alike. All the while we are gaining experience and knowledge while helping those in need.
As you engage deeper into the neighborhood, time quickly passes as our experience is truly a life-altering one working alongside the Bajan community, but once our project is complete, we venture back to our hotel. Whether you decide to relax at a nearby beach with a good book, or head to Bridgetown for some shopping and drinks or all the above, it's your decision.  Feel free to roam the bustling island as you please and enjoy your fellow BGTT voluntourist.
Breakfast Included
D A Y
4
Join your fellow BGTT voluntourist, for early morning dining.  Being mindful that we are in the culinary capital of the Caribbean, our Bajan breakfast keeps getting better and better, be sure and jot down a recipe or two to experiment when you return!  You will leave the island with memories of AMAZING Caribbean food, great conversation, and better company.
After breakfast, we will travel to our project site. Focused on protecting and restoring the Barbados heritage, our time will be devoted to enriching the lives of the children and families in communities that have little access to quality luxuries we admittedly can take for granted. Take in every moment, because that feeling you get after completing our work project and seeing the unbridled joy on the faces of the locals you have just helped is absolutely indescribable.
In the evening, you can gather at a popular restaurant to enjoy the Bajan delicacies with your fellow voluntourist. Followed by soaking up more Bajan culture through their undeniably popular music scene. The music of Barbados is a synthesis of diverse styles and influences, most notable of British and African origins. It's all in the hips! When the music starts and the rhythms hits your immediate response is to move those hips or to "wuk up" as the locals say. The afternoon is yours to play as you please!
Breakfast Included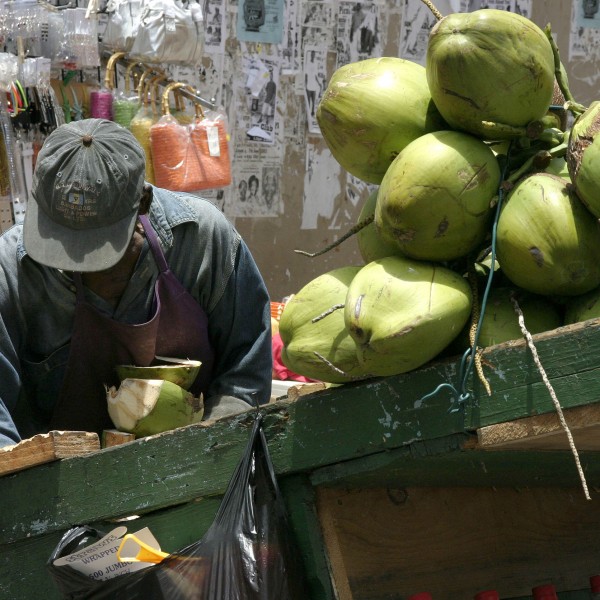 Join the BGTT voluntourist as for a day of fun.  After breakfast, we will embark on a Private Island Safari Tour in 4×4 Jeeps with a combination of on and off-road adventures, visiting Gun Hill and Cherry Tree Hill.  We will top it all off by catching the beautiful views of the east coast and ending our tour at Animal Flower Cave, where we will transfer to a coach that will transport us to Pirates Cove Beach where a scrumptious Bajan lunch with a private tent and picnic tables awaits us.
Breakfast, Snack  + Lunch Included
After your morning breakfast, join the BGTT team aboard a catamaran as we sail across the south and west coast of Barbados while inhaling the pristine waters of the Caribbean sea.  From swimming, snorkeling, exploring shipwrecks, to face to face interactions with sea turtles.  This is an adventure you don't want to miss!
Later that evening, join us for a seat at the table during our last dining together, where we reflect over our time serving in Barbados.  After dinner, we say our final farewells as a group but will forever remain connected as a Black Girls Travel Too voluntourist family!
Breakfast, Lunch +Dinner Included
7
D A Y
An early rise to wrap up any loose ends, visit the beach one last time or indulge in sweet Barbadian dishes and rum once more, then we begin to prepare for your airport departure by a private BGTT shuttle to Grantley International Airport and bid your farewells to everyone. We enjoyed taking care of you on this trip, allowing for you to focus on making an impact in the Barbados community and the world collectively, epic adventures and total relaxation! We look forward to seeing you on the next BGTT trip! Travel Safely!
W H A T ' S  I N C L U D E D  ?
5 BREAKFAST, 1 LUNCH, 1SNACK, 2 DINNERS
FAST TRACK ARRIVAL SERVICE
GUIDED SCENIC ISLAND TOUR OF BARBADOS
INTIMATE GROUP EXPERIENCE
AIRPORT VIP LOUNGE ACCESS
***Airfare Not Included***
***Please do not purchase airfare until you have received a confirmation email from Black Girls Travel Too confirming your reservations.***
G O T   Q U E S T I O N  S  ?
What is Voluntourism?
Volunteering while traveling.
How much spending money will I need in Barbados?
You will need about $500 USD.  However, if you wish to buy several gifts, you should bring additional $200.00 dollars or so.
What is the Barbadian conversion rate?
The currency of Barbados is the Barbadian Dollar (BBD).  The Barbadian Dollar is converted at the rate of $1.98 (BBD) to $1.00 (USD).  The Barbadian Dollar is fixed to the U.S. Dollar and do not fluctuate.  U.S. currency is accepted across the island and most stores and restaurants accept major credit cards.
Do I need a passport to travel to Barbados?
Yes!
Are flights included in the purchase of the BGTT package? 
Flights are not included.  However, if you desire assistance in selecting the best flight for you, feel free to contact us at support@blackgirlstraveltoo.com.
When should I purchase my airfare?
You should purchase your airfare as soon as you receive your Barbados confirmation email.
What is the arrival airport? 
The arrival and departure airport is Grantley Adams International Airport, airport code (BGI).
How will I commute from Grantley Adams International Airport to my accommodations? 
We provide complimentary roundtrip airport transfers in Barbados.
Where are we staying? 
We will stay 7days/6 nights in a local hotel, steps away from Accra Beach.
Are there any private rooms options available? 
Of course!  Our private room charge is an additional onetime fee of $550.00  To request a private room, email support@blackgirlstraveltoo.com.
I really want to travel with your group, but I feel like I may be too young or too old
No worries at all!  When it comes to travel age is nothing but a number.  Our BGTT Experiencers range between the ages of 20-60.  There has not been one time that a traveler felt awkward because of their age traveling with Black Girls Travel Too.
Are your trips designed to serve large groups?
Totally the opposite.  We understand the importance of intimate groups.  Our trips are designed for a more high touch and exclusive experience.  You receive access that you probably wouldn't get with a larger group.  This unique experience allows you to create a community amongst your fellow travelers. Giving you insider access that larger groups aren't afforded.
W H A T  A B O U T
P A Y M E N T  P L A N S   ?
[go_pricing id="aida_5a03d_5a046bfc50282″]
By purchasing a trip from Black Girls Travel Too, you acknowledge and are aware that the trip details are subject to change.  The itinerary was curated in good faith and any mention of specific destinations does not guarantee that they will be visited nor does it forfeit the contract between the purchaser and the seller. Our itinerary has been put together with care and intention, however as we may deem it fit to make adjustments that stem from political affairs, weather changes, local concerns, and etc. Our number one goal is to ensure that we provide you with a memorable experience. To ensure that our goal is your goal as well, print a final copy of your itinerary for your review prior to your departure for your trip. You also acknowledge and agree that there are inherent risks associated with any activities you may partake in. Therefore, you understand, agree, and assume full responsibility for such risk that you alone are responsible for based upon your decision to participate in such activities.  There are no refunds after confirmation of your reservation.  However, if your reservation is not confirmed due to availability you will be refunded in full.