W  H  E  R  E     A  R  E     W  E     G  O  I  N  G  ?
Barbados, the 21-by-14 mile Caribbean paradise that embodies crystal blue waters, fine powdery sand, brilliant turquoise bays and smashing nightlife, is situated in the North Atlantic Ocean as the easternmost island of the Lesser Antilles in the West Indies. Bridgetown, the capital of Barbados, is the epicenter, with its eclectic mix of rag-tag, shanty-style vendors hawking everything from homegrown vegetables, fruits, underwear, toiletries, cleaning products, clothes, purses.
The Barbados Food and Rum Festival truly celebrates the best of local culinary and beverage experiences, bringing together talented chefs, rum producers, and culinary experts and personalities. Immerse in the rich culture and flavors of Barbados, while indulging in your senses with the tantalizing aromas and taste of exquisite cuisine and world renowned rum. Give yourself the opportunity to not only explore the local food and drink scene, but also connect with the vibrant community of Bajans who are proud of their heritage and eager to share it with visitors.
W  H  E  N     A  R  E     W  E
  G  O  I  N  G  ?
O C T O B E R    1 9  t h  –  2 5 t h  2 0 2 3
(SPACES ARE LIMITED)
T  H  E     R  U  N     D  O  W  N
Upon your arrival, you will quickly notice that the Barbadian culture is deeply ingrained in the island, as you will be immersed in the local way of life. With the island's rich culinary and beverage traditions, you are sure to become a local in no time.
You'll rest peacefully for 6 nights in luxury condominiums steps away from the serene beach line. Rest… you will certainly appreciate it as the BGTT experience immerses you into the island as if you were a local! From premier all-inclusive parties, star-studded culinary presentations, top international culinary personalities, events showcasing the talents of Barbados most renowned rum producers and award winning chefs and more.
While the Barbados Food and Rum Festival is a major highlight of our experience, there's so much more we will explore beyond the festival grounds. From visiting historic sites like Bridgetown and Garrison Savannah, to relaxing on some of the world's beautiful beaches, to sampling local delicacies at the bustling street markets, there's no shortage of activities and experiences to enjoy in Barbados. By the time you depart the island, you would have gained a deeper appreciation for all that Barbados has to offer, and create memories that will last a lifetime.
LOCAL ADVISED ITINERARY . . . When you travel with Black Girls Travel Too, we offer a unique blend of both major highlights and off the beaten path experiences to ensure you a well-rounded experience.
THE HIGH TOUCH TREATMENT . . . We have mastered the art of customer care, with 24/7 online team member access before, during, and after your travels with BGTT. Our commitment to you doesn't stop after your investment. No questions are ever too small. We got you covered and will ensure you have an epic experience from start to finish.
PROFESSIONAL PHOTOGRAPHER IN TOW . . . You heard us right, every day will be a photoshoot! You'll be so immersed in the moment as we take on Barbados, and professional photographs will allow you to relive the moment, time, and time again. Daily, a digital link will be delivered to you with the previous day's memories. Giving you the power to share on your favorite social media accounts as you please!
SMALL INTIMATE GROUPS . . . We pride ourselves on offering small intimate tours to ensure each traveler a richer experience. Unlike large tour groups, traveling with a small group allows us more flexibility and to be less conspicuous for exploring with the locals.
Inclusive Round Trip airport transfers from and to Grantley Adams International Airport are included when you travel with Black Girls Travel Too. Hello, stress free traveling!
YOU,
BARBADOS,
AND THE BLACK GIRLS TRAVEL TOO EXPERIENCE
So, you've had your eye on a Barbados getaway for some time now...
So, you've had your eye on a Barbados getaway for some time now, you followed our experiences that have spanned all corners of the world, you witnessed thousands of travelers grace our Instagram and other social media platforms, you pinned your life away on Pinterest planning the trip you work hard for and deserve, the desire to immerse yourself in a modern and classic culture has you up in arms with excitement, but there's a hesitation.
What is it like traveling with Black Girls Travel Too? This is new territory for me so how can I be sure I'll enjoy myself, and my closest loved ones are skeptical, in turn, having me question should I invest in this experience?
With Black Girls Travel Too, your hesitations are our motivations. As a premier black owned and operated traveling service we've dealt with our share of skepticism and prejudices early on, now we accredit our passion of going above and beyond a traveler's expectations to ensure you the invaluable experience you deserve to be a part of. That hesitation you may be experiencing is familiar to us as well. A stigma placed on women of color is that we are uncultured, even undeserving of a life filled with jet-setting and pages of passport stamps. Nothing could be further from the truth, so we decided to change the rules.
By cultivating only the best partnerships across the globe, investing in premier quality customer care teams, immersing in education and vetting the world's most prized possession, a black woman to take trips of a lifetime with, your life is forever changed for the better.
We silenced the noise and lived up to no one's expectations of our lives but our OWN!
You deserve a seat at this table, and we are saving one for you. It's your time, pack your bags and let us take care of everything else!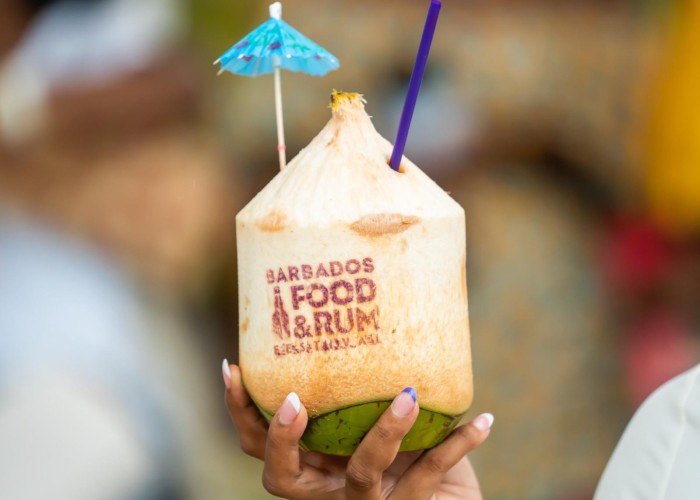 1
D A Y
Minutes after arriving at the Grantley Adams International Airport (BGI) you will be greeted and escorted through the immigration process. After your successful completion of immigration, you will be further escorted to the luggage carousel and assisted with the collection of your luggage and whisked expeditiously over to customs. After customs, you will be escorted to a meet and greet station where you will be provided with refreshments and cool towels exuding the refreshing smell of Eucalyptus. After your welcome to Barbados pleasantries, your driver will transport you and your fellow BGTT travelers from the airport to your home away from home for the next 7 days! Yes, this is all minutes after you've landed on the island ladies. When we said Black Girls Travel Too was synonymous with inclusive and royal luxuries we meant it and you deserve it!
Check into your luxury South Coast condominium and the remainder of the afternoon is yours to see a polo match, take a tour of the Mount Gay Rum Distillery, take in the sights at the Holders Farmers Market that showcases only local products, and the Harbour Lights Dinner Show & Beach Extravaganza, featuring steel pan and other live bands, Carnival dancers, barbecue and free drinks or hit up the Barbados Museum.
Later in the evening, we will gather together for Oistins Under Stars. An open air fish fry under the Barbados sun, where we will indulge in a variety of delicious food and experience an exciting atmosphere. With a melting pot of flavors, you can expect to taste different types of fish and seafood prepared in a variety of ways.
Dinner Included
Rise and Shine as we are met with a proper Bajan breakfast by an award winning Barbadian chef.
After breakfast we will set out for a day of adventure and spirits that encompasses a cave tour, zip lining experience, challenge course, rum tasting, natural trails & swings, Mount Gay History Center and more.
After immersing ourselves into the history and crevices of Barbados, we will return to our accommodations where you can enjoy some r&r before we head out for the evening to the sweetest street party. Brace yourself as the Barbadian streets come alive with bold flavors and sizzling sounds of authentic Bajan food.
With over 10 restaurants to choose from, you can indulge in the delicious culinary delights that Barbados has to offer. And let us not forget the best way to quench your thirst is at any resident bar, which offers an array of specialty rum cocktails that are sure to hit the spot.
One of the highlights of the evening is the "Riddim Section" Street Parade, where you will bear witness to a cultural mashup of Barbados' best entertainers in a roving carnival with plenty of giveaways and sweet treats, as the parade is sure to add the festive atmosphere of the street party.
Breakfast Included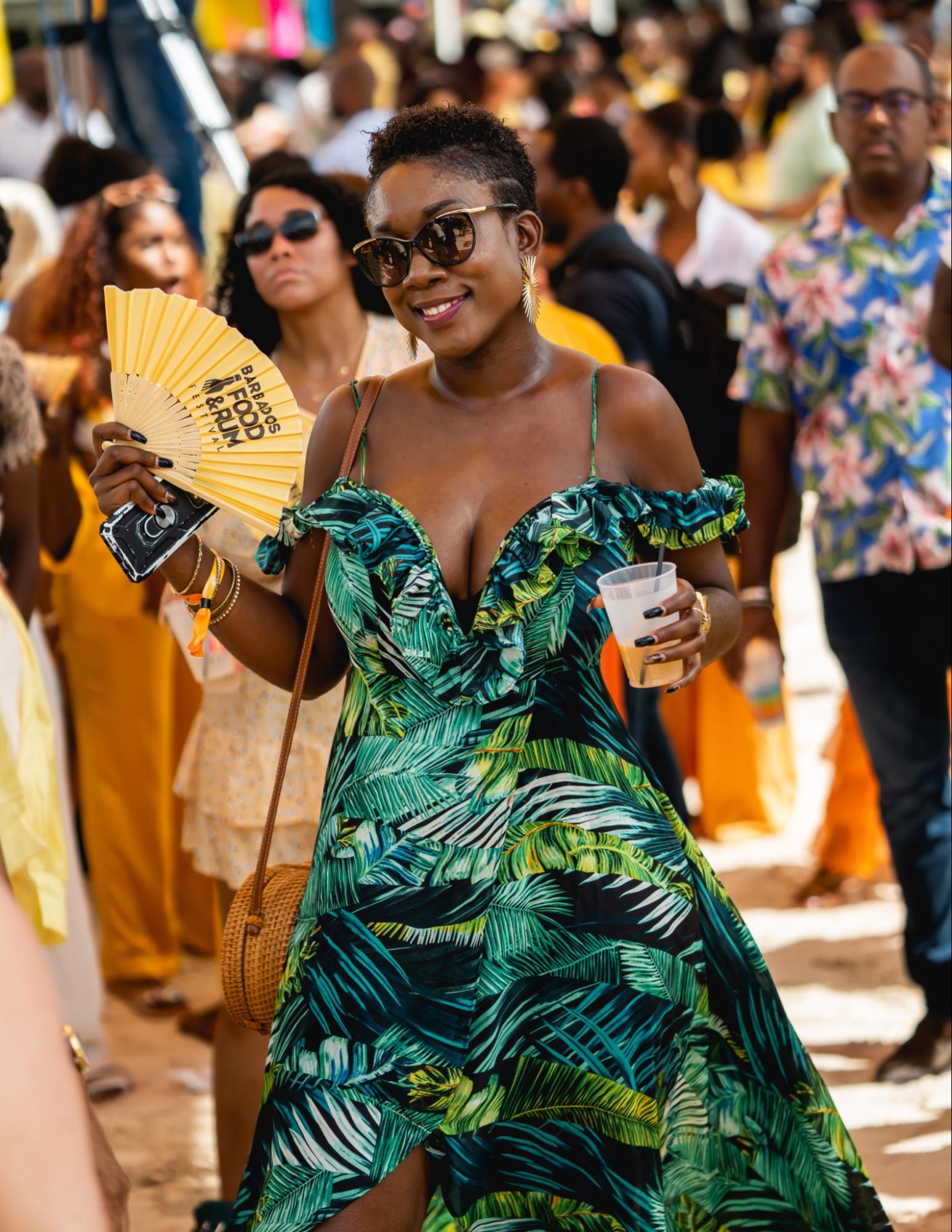 D A Y
3
What a perfect day in Barbados! Starting the day with a mouthwatering spread of breakfast favorites on the beach, while wearing sunnies and sundresses, is the perfect way to soak up the island vibes. And what's better than enjoying delicious food with a picturesque view of one of Barbados best beaches?
To make the experience even more special, you can sip on gorgeous rum cocktails while you party the morning away. The combination of great food, beautiful scenery, and lively music will surely make for a memorable morning.
After the Rum and Rise Breakfast Beach Party, we will return to our accommodation and you are able to do as you please while enjoying the remainder of your day at your leisure until we reunite for dinner later that evening.
A night to remember with fine dining and entertainment, met with delicious and beautifully presented dishes prepared by world renowned celebrity chefs.
What a way to end the night!
Breakfast + Dinner Included
D A Y
4
Exploring the 11 parishes of Barbados is a great way to experience the island's rich history and diverse culture. Traveling by open-air bus allows us to fully immerse ourselves in the natural beauty of the island and feel the warm Caribbean breeze.
The start and stop nature of the tour provides us with the opportunity to take in all the sights and sounds of each parish. With a leisurely pace and opportunity to explore different landmarks and attractions along the way.
As you learn about the history of Barbados, you will certainly gain a deeper appreciation for the island's unique culture and heritage. From the colonial architecture and historic plantations to the colorful local markets and bustling towns, there is so much to see and experience.
This day promises to be an unforgettable experience as we end our day with the story of rum experience.
Breakfast Included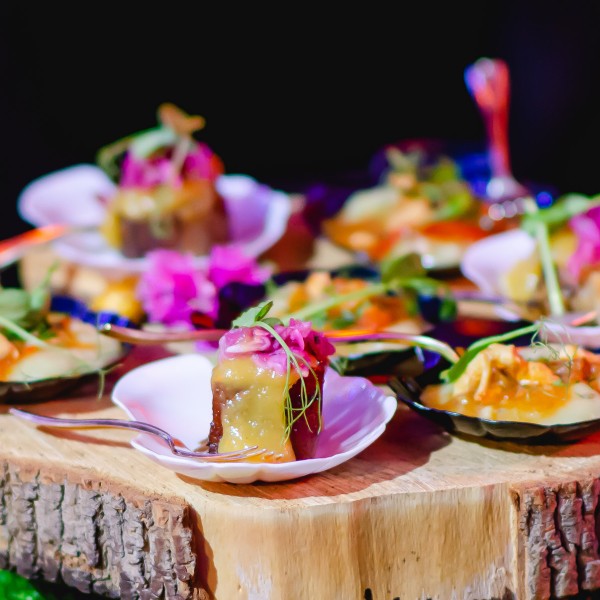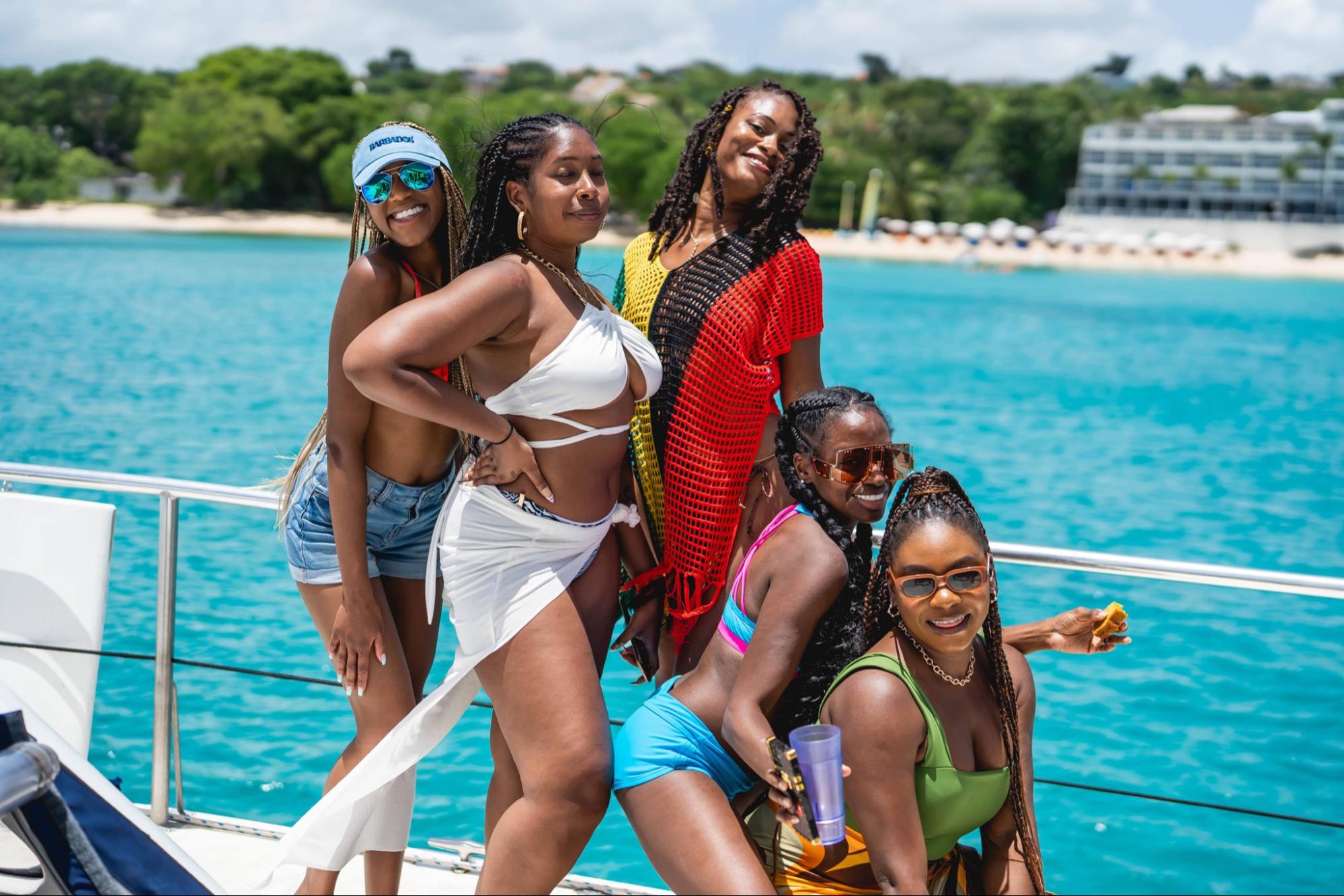 D A Y
5
After breakfast, the inclusive sail along the Barbados coastline promises to be one of your most memorable catamaran experiences. We will be met with an all you can eat and drink while taking in the stunning scenery and soaking up the Bajan sun. The turquoise waters of the Caribbean Sea are truly breathtaking, and the fresh breeze will provide the perfect cooling respite from the warm tropical weather.
Adding to the ambiance, enjoy the tunes of a mixture of R&B, Pop, Soca, and other music genres as we bask in the sun and take in the natural beauty of the island. What a great way to just simply be and relax and unwind.
As our day comes to an end, you would have experienced a perfect combination of authentic Bajan Cuisine, beautiful scenery, and relaxed Caribbean vibes.
Breakfast + Lunch Included
Once again, the Bajan breakfast cuisine is literally one of the best experiences ever. The variety of authentic Bajan foods we've had thus far, has contributed to a true bajan experience here on the island.
After breakfast, we will enjoy a picnic at the beach… Jet Skiing and other water sport activities await you or you can just relax on the beach and take in the cool breeze, sky blue water, and a delicious bajan inspired picnic.
After the picnic, we will return to our accommodations and prepare for our last evening together over dinner.
Breakfast + Lunch + Dinner Included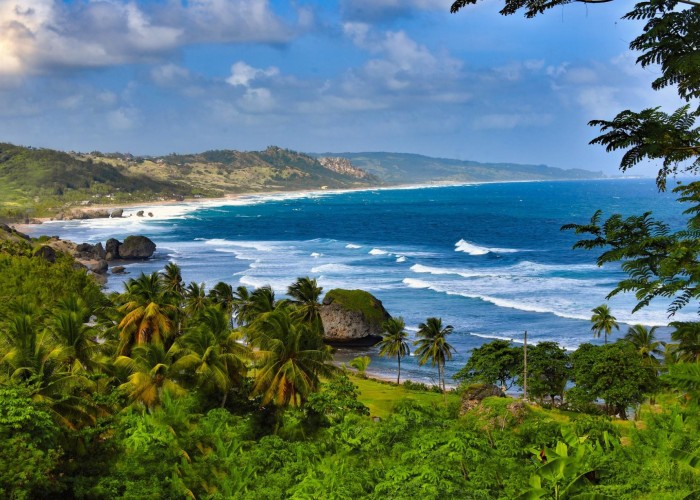 7
D A Y
It's officially our last breakfast, our last day, but it never has to be our last experience together!!!
This breakfast most definitely hits differently as we break bread together and say our goodbyes for now. Our award winning Chef has wowed us for the past 6 days with some of his best Bajan creations and truly are blessed for those experiences.
This experience has been a love letter of love, food, and heritage that we have been able to not only partake in but to share amongst each other as well. Unique blend of African, European, and Caribbean influences will remain in our mind and hearts for years to come.
It is never a goodbye, but see you soon on the next Black Girls Travel Too.
Breakfast Included
W H A T ' S  I N C L U D E D  ?
5 BREAKFAST, 1 LUNCH, 1SNACK, 2 DINNERS
FAST TRACK ARRIVAL SERVICE
GUIDED SCENIC ISLAND TOUR OF BARBADOS
INTIMATE GROUP EXPERIENCE
AIRPORT VIP LOUNGE ACCESS
***Airfare Not Included***
***Please do not purchase airfare until you have received a confirmation email from Black Girls Travel Too confirming your reservations.***
G O T   Q U E S T I O N  S  ?
What is the Barbados Food & Rum Festival?
The Barbados Food & Rum Festival is an annual event that celebrates the culinary and cultural heritage of Barbados, as well as the island's famous rum industry. The festival typically takes place between the later month of October or early November.
The Festival features an array of events, including food tastings, cooking demonstrations, rum tastings, and live music performances. Some of the island's top chefs and mixologists participate in the festival, showcasing their skills and creativity with local ingredients and rum.
The festival also includes a variety of cultural activities, such as tours of historic sites, art exhibitions, and cultural performances.
Are the events included within the purchase of the Black Girls Travel Too package?
Events mentioned within the above description of the itinerary are the only events (fetes/parties) included within the purchase of the Black Girls Travel Too Barbados Food & Rum. However, there are several events occurring during the Black Girls Travel Too Barbados Food & Rum Experience. Some are on land while others are on water. We provide our guests with the flexibility of adding additional experiences at their own expense.
How much spending money will I need in Barbados?
As a rough estimate, you could plan to spend $50 to $100 USD per day on food and activities outside of the Black Girls Travel Too Barbados Food & Rum 2023 Experience.
What is the Barbadian conversion rate?
The currency of Barbados is the Barbadian Dollar (BBD). The Barbadian Dollar is converted at a rate of $1.98 (BBD) to $1.00 (USD). The Barbadian Dollar is fixed to the U.S. Dollar and does not fluctuate like in most foreign countries. U.S. currency is accepted across the island and most stores and restaurants accept major credit cards.
Do I need a passport to travel to Barbados?
Yes!
Are flights included in the purchase of the BGTT package?
Flights are not included. However, if you desire assistance in selecting the best flight for you, feel free to contact us at support@blackgirlstraveltoo.com.
When should I purchase my airfare?
You should purchase your airfare as soon as you receive your Barbados confirmation email.
Should I purchase travel insurance?
Travel insurance is a requirement in order to travel on any Black Girls Travel Too experience we offer.
What is the arrival airport?
The arrival and departure airport is Grantley Adams International Airport, airport code (BGI).
How will I commute from Grantley Adams International Airport to my accommodations?
We provide complimentary roundtrip airport transfers.
Where are we staying?
We will stay 7 days/6 nights within luxury condominium property.
Are there any private room options available?
Of course! Our private room charge is an additional one time fee of $700.00 To request a private room, email support@blackgirlstraveltoo.com.
I really want to travel with your group, but I feel like I may be too young or too old.
No worries at all! When it comes to travel age is nothing but a number. Our BGTT Experiencers range between the ages of 25-59. There has not been one time that a traveler felt awkward because of their age traveling with Black Girls Travel Too.
Are your trips designed to serve large groups?
Totally the opposite. We understand the importance of intimate group experiences. Our trips are designed for a more high touch and exclusive experience. You receive access that you probably wouldn't get with a larger group. This unique experience allows you to create a community amongst your fellow travelers. Giving you insider access that a larger group can not.
W H A T  A B O U T
P A Y M E N T  P L A N S   ?
By purchasing a trip from Black Girls Travel Too, you acknowledge and are aware that the trip details are subject to change.  The itinerary was curated in good faith and any mention of specific destinations does not guarantee that they will be visited nor does it forfeit the contract between the purchaser and the seller. Our itinerary has been put together with care and intention, however as we may deem it fit to make adjustments that stem from political affairs, weather changes, local concerns, and etc. Our number one goal is to ensure that we provide you with a memorable experience. To ensure that our goal is your goal as well, print a final copy of your itinerary for your review prior to your departure for your trip. You also acknowledge and agree that there are inherent risks associated with any activities you may partake in. Therefore, you understand, agree, and assume full responsibility for such risk that you alone are responsible for based upon your decision to participate in such activities.  There are no refunds after confirmation of your reservation.  However, if your reservation is not confirmed due to availability you will be refunded in full.
She was like an all inclusive trip that entailed no motivation, no inspiration, never the smartest kid in the class, growing up in an underserved community in Mobile, Alabama and no budding aspirations to stray off the beaten path…..yet she landed as a pioneer in the black travel movement, a socially engaged businesswoman, wife, mother and friend. When people say, "Started from the bottom now we here", BGTT founder, Dianelle Rivers- Mitchell (Danny) embodies that defining journey that she was blessed to not become a statistic but a success.